We will start the In-Depth articles on
Tosca
with a similar brief historical review than for Traviata, commenting on the main singers performing Tosca since the premiere of the opera, until our days.
The first Tosca of them all was the Romanian soprano
Hariclea Darclée
.
Since 1890 she was performing in Italy a variety of roles: Gilda, Violetta, Mimi, Aida,... She was singing in the premiere of
Iris
or
La Wally
, besides being the first Tosca. She was also a very popular Elisabeth, and a celebrated Valentine, had in repertoire Donizzeti and Bellini...
It seems that we owe "Vissi d'arte" to Darclée herself pestering Puccini about not having a proper aria to showcase her talent. Unfortunately, though Darclée recorded the aria in 1904 for Fonotipia, there is not a fully reliable copy of that recording so far. Let listen to a Romanian song recorded in 1928, when the singer was already retired (some say the voice was from her daughter):
Tosca is an ideal role for a lyric-spinto soprano. Her tessitura goes from C3 to C5. The upper third of the singer is frequently needed, with up to five C5, however her mid-range is very important, and must fight in this zone with a good-sized orchestration. She needs also the right color of the voice to portray the heroine.
In the first act, she is a somewhat vain, flirtatious girl. The vocal line written by Puccini takes into account this fact. The main difficulty is probably in the high B-flat in "le voci delle cose". She must also be able to execute with morbidezza the last part of the act, when she is going, and request Mario to paint the "occhi neri".
Of course, her clash with Scarpia is where she must use her medium range in full force, and she is required to go from her top notes to the lowest ones, to describe the hate, the anguish of the young and desperate woman. Her magnificent plea, "Vissi d'arte", is her only real moment of showing-off. After Scarpia's death, her words almost in parlando, "Guardami, son Tosca", are almost in dramatic soprano territory.
The last act is more contained for the soprano, with some recitative as well as a duet with Mario, when she can sing her sensual "Senti effluvi di rose?", before going back to parlando and her last challenge to her torturers, with a rousing high B-flat.
The first Toscas on record
Tosca
was premiered in 1900, and the first complete recording of the opera is from the 1920s. In the meanwhile, some great artists were singing Tosca, and recorded some fragments (usually, of course, "Vissi d'arte"), but were nevr preserved singing the full opera. Let's remember some of them:
Emmy Destinn
, the Czech soprano, was the greatest Tosca of the 1910s, and was frequently paired to Caruso's Cavaradossi.
Another Czech soprano,
Maria Jeritza
was the favourite of the composer, and was also the first to sing "Viss d'arte" from a prone position, that will be followed by many during several years. She was owning the role, first in Vienna, and then in the MET:
Emma Eames
was very succesful singing Tosca at the MET:
While
Geraldine Ferrar
was succesful just about anywhere:
It's funny but you will have noticed that among all those sopranos, there is no one from Italy itself. Well, arguably the greatest Tosca of the period was indeed Italian, and no other than the great soprano
Claudia Muzio
. She sings the role in New York, Chicago, Buenos Aires, London, San Francisco,.. and this is her heart-breaking "Vissi d'arte", recorded in 1935:
The first complete Toscas: 1920s-1930s.
Carmen Melis
Under the agile and articulate conducting of Carlo Sabajno, the Italian soprano Carmen Melis sings an unabashedly verismo Tosca. Her top notes are limpid, reached without apparent effort. However, her low range is clearly subpar. Overall, she sounds more like the owner of a Roman trattoria, than a succesful prima donna.
Melis - Vissi d'Arte
Melis - Vedi, le man giunte io stende a te! (with Apollo Granforte)
Bianca Scacciati
A rather crude, disappointing performance from Scacciati, that won't be considered one great Tosca judging by her 1930 recording with Molajoli, though her reputation and contemporary reviews were mostly favorable.
Scacciati - Vissi d'Arte
Maria Caniglia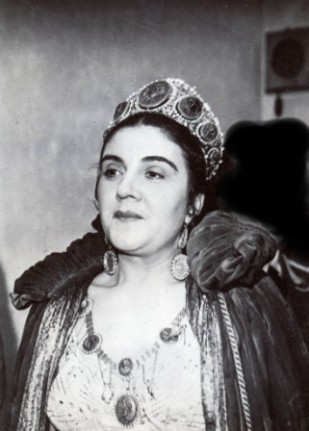 The soprano of choice in Italy for any verismo role during the 1930s. A very good singer, with solid top notes, accompanied by a rather rotund low register, great Italian diction. She sings Floria Tosca with a pleasant vibrato, rallentando in excess her part during the crucial scene of the torture. The portrait is a little bit too generic, also. But it was clearly the best Tosca on record, at the time.
Caniglia - Vissi d'Arte
Caniglia - Finale (with Beniamino Gigli)
Grace Moore
Since the retirement of Maria Jeritza in 1932, there was no soprano owning the role of Tosca at the MET. Lotte Lehmann, Marjorie Lawrence, Dusolina Giannini, Caniglia herself,... No one was really winning the audience over. However, in 1941, American soprano (and Hollywood actress) Grace Moore was able to get some real success.
And she is the only one with a recorded Tosca from the 1940s. Moore was not a real first class Tosca. Her instrument was too lyrical, her singing bland, and even her acting rather erratic. However, she was not a disaster either...
Moore - First Act duet (with Jan Peerce)
Moore - Vissi d'arte
The 1950s: Renata Tebaldi
Compared to the paucity of the 1940s, in the 1950s we have arguably the two best Toscas on record.
Blessed with one of the more beautiful voices ever, Tebaldi was a full lyrical soprano, that also sang very well spinto roles, like Tosca. The richness of her harmonics in the center of the tessitura, that was dense, resplendent, with an easy rise to the top notes, that were immaculate first up to C5, and with time only to B4,... hardly. The Italian diction was close to perfection, in
Tosca
just hear how she is literally sculpting the phrase: ""Tu fino a stassera stai fermo al lavoro. E mi prometti: sia caso o fortuna, sia treccia bionda o bruna, a pregar non verrà donna nessuna!". The more dramatic scenes were always a constant battle for her, but up to the late 1950s she was usually the winner of those battles.
Of the different Tebaldi's
Tosca
recordings, perhaps the more interesting are Molinari-Pradelli'55 and Mitropoulos'56. We are attending a singing masterclass, with incredibly touching Second Act. In the first scene with Cavaradossi, she is more irate than jealous, but manages to sing each and one of the libretto's words and the score's notes, even sacrificing some immediacy. With Scarpia, however, she is rather haughty and shy, before giving up thinking she is being cheated by Mario, in a splendid crescendo "Egli vede ch'io piango!".
The few minutes she is singing "Vissi d'arte" are one of the absolute peaks of the Italianate school of singing, so pure, so lyrical. She is transfigured, and more than a soprano delivering a performance, she is Italy itself, in the voice of a woman.
Tebaldi - Mario, Mario! (with Franco Corelli)
Tebaldi - Vissi d'Arte
Tebaldi - Franchigia a Floria Tosca (with Richard Tucker)
Maria Callas
Tosca was the first professional role for the young Callas, that sang the role in Athens, both in Greek and Italian, only at 18 years old.
Many fans consider Tosca one of the best of Callas's roles, even her best. Though her Second Act is indeed legendary, my personal opinion is she was not able to fully explore the sensuality of Tosca in the First, and partly in the Third Acts. Tebaldi was better at this.
Callas was not even very fond of Tosca, after singing the role 53 times on stage. The first international Tosca of Callas was in Mexico, the instrument was at her best, she even devoured Weede's Scarpia. The top notes were sung with insulting ease. Later, she sang in Rio de Janeiro, and Mexico again:
Callas - Vissi d'arte - Rio de Janeiro, 1951
Callas - Vissi d'arte - Mexico, 1952
The instrument was at her best, she even devoured Weede's Scarpia. The top notes were sung with insulting ease.
But of course, Callas's most famous Tosca was recorded in 1953, an almost mythical take with Gobbi and di Stefano, De Sabata conducting:
Callas - Tosca, Second Act (with Tito Gobbi)
During the rest of her best years, Callas only sang Tosca a few more times, in Genoa, New York and Paris. Her last performances, already with her voice almost completely destroyed, were already in the 1960s.
The 1950s: Other sopranos
Zinka Milanov
Zinka Milanov sang the role of Tosca many times, during a career spanning more than thirty years. She recorded the opera in 1956, when she was not at her absolute best. However, this is a Tosca almost sickly sweet, with a sunny medium range and beautiful low notes, while there are some problems at the top, coupled with not the most dramatic phrasing.
Milanov - Love Duet (with Björling)
Milanov - Vissi d'arte
Antonietta Stella
Stella was a talented soprano, but Tosca was perhaps a bit out of her comfort zone, and it showed.
Stella - Vissi d'arte
Magda Olivero
Magda Olivero, one of the greatest singing actress ever, recorded Tosca in 1957.
Olivero - Vissi d'arte
With her rich and expressive voice, and her 'vibrato stretto' trade-mark, she was not always producing the most conventionally beautiful sound, but she was able to capture all the emotion, all the nuances of her characters. She was always able to modulate her singing and submit to the drama.
We can watch Olivero in 1960 during her clash with Scarpia, in a RAI broadcast, the year 1960:
Olivero - Scarpia's murder scene (with Giulio Fioravanti)
But perhaps the greatest tribute ever paid to her Tosca was in her first performance singing Puccini's heroine at the MET, in 1975, when she was.... 65 years old!. She received an standing ovation of more than twenty minutes, the first time such a big applause was given at that house since the 1920s.
Olivero - Debut at the MET
She was (and still is, she is alive at 102!) among the best Toscas on record, indeed.
The 1960s
Régine Crespin
Régine Crespin, a French singer but with Mediterranean roots (she was born in Marseille), was a delightful Tosca. During the 1960s she was at her vocal peak, and was able to provide some brilliant performances in the role. Perhaps, she sometimes so concentrated on the expressive side, that she forgot to fully control the voice, and can verge upon exaggeration.
Crespin - Mario, Mario (with Franco Corelli)
Crespin - Vissi d'arte
Leontyne Price
Price was an ardent, voluptuous, feline Tosca. Just hearing her imperatives "Mario, Mario!" you can understand a good deal about the character. However, she is pushed to the limits of her tessitura in "Vissi d'arte", and her rendition is a little bit too complacent.
Price - First Act (with Giuseppe di Stefano and Giuseppe Taddei)
Price - Vissi d'arte
Birgit Nilsson
One good example of a great singer... singing the wrong repertoire. Surely Nilsson was able to sing Tosca from a purely vocal point of view, she could give all the notes. However, she is totally out of character in the First Act, not able to really follow the puccinian line; there is no fervour, only ice. The remaining two acts are better, but not great.
Nilsson - Vissi d'arte
Nilsson - Finale
The 1970s
Montserrat Caballé
Caballé was at her best in the first scene. Her slow, sensual, languid "Lo dici male" had been rarely surpassed. However, her rather anti-verismo approach in the rest of the opera was not the best to do justice to the young and passionate singer that Puccini wrote in his score. Listening to Caballé's "Vissi d'arte" we are before a concert piece, not fully inserted into the drama. A beautiful Tosca, but not a great Tosca.
Caballé - Mario, Mario (with Luciano Pavarotti)
Caballé - Vissi d'arte
Raina Kabaivanska
An impressive Tosca, with a complete mastery of all the dramatic nuances, and a precise, incisive phrasing. When Tosca enters the Church in the First Act, you need to see a great diva, and no one conveyed that impression better than Kabaivanska. She always have some minor vocal flaws, that in her later years were very much noticeable, but she never lost her dramatic flair.
Kabaivanska - Full opera (with Domingo and Milnes)
Modern Toscas
It's been quite some time without a really great Tosca. It's one of those roles that we have several good performers, but no one really standing over the others. The more interesting ones of the last thirty years are, in my view:
Eva Marton
She had the voice, and the temper, to be a very good Tosca, but somehow she always fell short of expectations:
Marton - Tosca, complete opera (with Aragall and Wixell)
Daniela Dessì
You can easily imagine her as the *real* Tosca. Again, we are before a very close match for the vocal type to sing the role, and some pretty performances are available. However, at times she resembles more Gina Lollobrigida, than Floria Tosca.
Dessi - Vissi d'arte
Sondra Radvanovsky
She produced some of the best notes I've ever heard as Tosca, and sometimes you get the impression that such a vocal torrent is going to drown Scarpia, instead of stabbing him. However, she still lacks some credibility as an Italian prima donna of the end of the 18th century.
Radvanocsky - Vissi d'arte
This is role for a lyrical tenor, with a robust and brilliant middle range, along with secure and scintillating top notes up to B3. He must be able to manage well sudden and frequent dynamics changes, and be a good 'fraseggiatore'.
Most of the time, he is supposed to act, and sing, as a man in love, though there is a famous heroic moment when the tenor sings "Vittoria!", with a written A-sharp 3, after hearing of Napoleon's victory at Marengo, to go quickly one octave below "L'alba vindice appar", and avoid being drowned by the orchestra. Also his affirmation to rescue Angelotti no matter what, "La vita mi costasse", with the B3 to be sung.
His First Act aria, "Recondita Armonia" is a good opportunity to showcase a beautiful timbre and a good phrasing. The many expressions of romantic love towards Floria: "Mia sirena", "O dolci mani",... are usually marked by Puccini as 'dolce' or 'dolcissimo', something that many tenors tend to ignore.
Of course his wonderful Third Act lament, "E lucevan le stelle" is his best moment to impress the audience. And again some tenors take the wrong route, and try to make it sounds exciting, when it's a private business, a reverie that the young man doomed to die is sharing with us, with 'gran sentimento'. Just keep your singing agile, use 'rubato' and move gradually your voice to the upper range, as you are thinking for the last time of how beautiful life is, and how much you love Tosca.
Emilio de Marchi was the first Cavaradossi. A famous tenor, and a veteran of many opera evenings already, at 39 years old when he premiered the role. We can hear below a small fragment:
De Marchi - Vittoria!
The first Marios
Enrico Caruso
was also considered to sing at
Tosca
's premiere, but finally Puccini preferred the by then more experienced De Marchi to the young tenor from Naples. Of course, Caruso will became arguably the most famous Cavaradossi's ever, and proceed to sing the role more than a hundred times. From 1908 to 1920 it was one of his signature roles at the MET.
Fernando de Lucia
, another Neapolitan tenor, is usually paired to Caruso as the epitomes of two ways of singing: the new school, based on verismo and represented by Caruso, versus the older, more aristocratic style of de Lucia. However, both were singing almost the same repertoire, and de Lucia was another Cavaradossi of choice during the first two decades of
Tosca
:
The third great Italian tenor of this period was
Aureliano Pertile
. He was the favorite singer of Arturo Toscanini, and also very appreciated at La Scala.
Many other tenors were great Cavaradossis. We can name, among others, Lauri-Volpi, Martinelli, Fleta, Cortis,... Let's hear a different thing, to close this post. The great Danish tenor Helge Rosvaenge, singing "Recondita Armonia" in German:
Some classics Cavaradossi
Beniamino Gigli
Always the great vocalist, Gigli was the ultimate suave Cavaradossi. So suave in fact, that sometimes he could sound just a little bit too bland. However, the way he sung his two arias was really magical.
Gigli - Recondita Armonia
Gigli - E lucevan le stelle
Giuseppe di Stefano
He was owning the role during the 1950s, singing with and without Callas. His beautiful timbre and imaginative phrasing made for an ideal Cavaradossi, before his vocal problems rushed his decline.
Di Stefano - First Act (with Renata Tebaldi)
Di Stefano - E lucevan le stelle
Franco Corelli
A heroic Cavaradossi. Perhaps a trifle too heroic for some tastes. In Cavaradossi there is always the tension between the man in love, the lyrical tenor, and the man prepared to sacrifice everything for an ideal, the spinto tenor. In Corelli we often saw too much of the latter, and too little of the former.
Corelli - First Act duet (with Maria Callas)
Corelli - Vittoria, Vittoria!
Richard Tucker
Another great spinto tenor, and another singer giving us the heroic side of Cavaradossi, though in a way somewhat more unrefined than Corelli.
Tucker - Recondita Armonia
Tucker - E lucevan le stelle
Carlo Bergonzi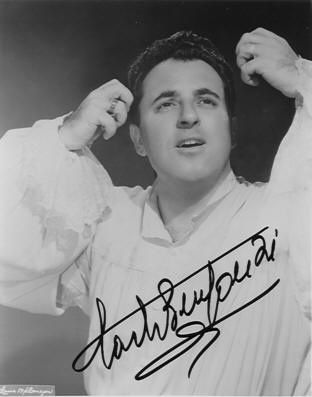 Arguably the best compromise between the artist and the man of action, a great vocalist, and a safe bet everytime he sang on stage, Bergonzi was indeed a great Cavaradossi:
Bergonzi - Vittoria, Vittoria!
Bergonzi - E lucevan le stelle
Placido Domingo
A great singer-actor, and a man with superhuman stamina, Domingo had sung just about everything. But he was a great Cavaradossi, a role that was for him, especially in his best years, almos tailor-made for his voice.
Domingo - Recondita Armonia
Domingo - E lucevan le stelle
Other good Cavaradossi: Gianni Raimondi, Jaume Aragall, Josep Carreras, Luciano Pavarotti, Ferrucio Tagliavini, Jussi Bjorling,....
Who is singing Cavaradossi today?
Not the best time ever for Cavaradossis...
We can find however a few tenors that can sing the role with some panache.
Marco Berti and Marcello Giordani are not very refined:
Giordani - E Lucevan le stelle
Berti - E lucevan le stelle
Marcelo Alvarez is refined, but the strain of singing heavier roles is showing in his voice:
Alvarez - Recondita Armonia
Jonas Kaufmann is the best suited voice to Cavaradossi today, but he is missing 'italianità':
Kaufmann - E lucevan le stelle
Roberto Alagna has everything on paper to be a great Cavaradossi, but somehow he is still not there:
Alagna - E lucevan le stelle
SCARPIA
Of course, Scarpia is central to
Tosca
, the opera.
But to fully understand the character, we need to look for clues in the acting, in the orchestra, in the way Puccini uses his voice more in recitatives and parlando-like than in veritable arias. This is an ideal role for an actor-singer, even more than for a singer-actor. Puccini himself said that, beyond having a solid center, the best choice to perform Scarpia was 'a good actor'. However, even if he was particularly fond of Antonio Scotti:
Antonio Scotti as Scarpia
as good an actor as they came in Opera, the singer chosen for the premiere was Eugenio Giraldoni, a more robust baritone, almost a bass-baritone.
Eugenio Giraldoni as Scarpia
Generally speaking, we can find two types of Scarpia, then. The "singing" Scarpia, that tries to sing the role, and the "acting" Scarpia, that usually thinks he can go throuh it just by being appropriately menacing, and even an erotic presence. Among those extremes, there are many shades of grey that we will watch on the thread.
His entrance in the Church, "Un tal baccano in Chiesa", is the first clue we have of Scarpia. He should transmit, at the high end of his tessitura, his capacity for violence, his power. And just after, in his invocation of Tosca, "Tosca Divina", his sensuality, his sexual appetite. But it's a refined sexual appetite, that demands a worthy partner, not simply a passing urgency of the flesh. Singing techniques like
mezzavoce
, or
sfumato
can be used here to good avail.
Clearly, the Second Act is the great moment for all Scarpias. Again, there is the temptation of using a constant parlando, a mere declamation. But this must come only at the end, when finally he believes Tosca is his, and he just exhales "Mia!, Mia!"... The rest of the long scene should be handled singing, and singing well.
Apollo Granforte
with his powerful voice, was not the most subtle of singers, and his Scarpia was more a force of nature, a man determined to satisfy himself than a more complex villain.
Granforte - Tosca è un buon falco
Granforte - Finale of Second Act (with Carmen Melis)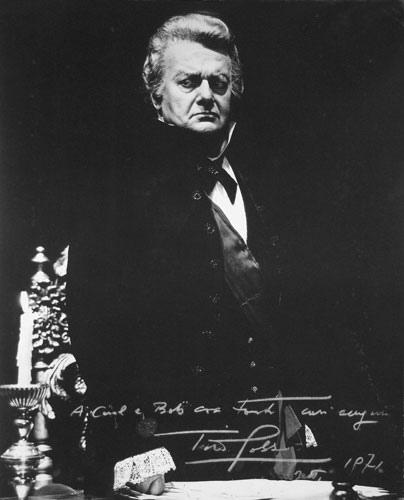 Tito Gobbi
is of course the more famous Scarpia of the past, having sung the role many times, and with luminaries like Callas or Tebaldi. Outside Italy he is also referential, but in Italy itself this position is not guaranteed, as many think he was a great actor, and with lots of charisma, but sometimes it was painful to hear him sing.
Gobbi - Te Deum
Gobbi - Tosca è un buon falco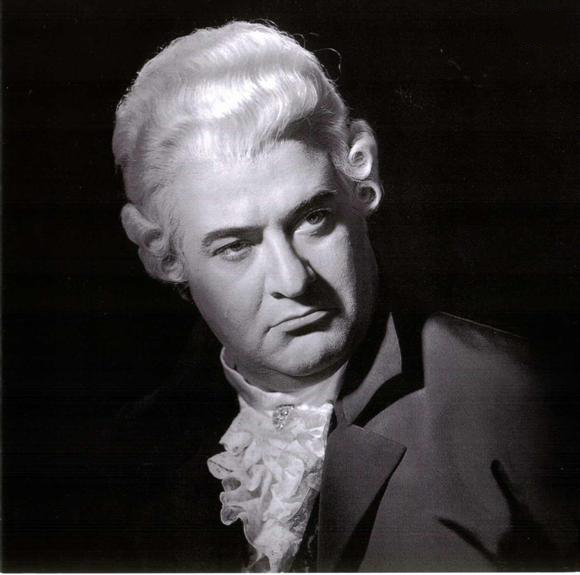 Giuseppe Taddei
was the exact opposite of Gobbi. All the role is actually sung, and well sung. And we get the image of a refined, cruel, sadistic Scarpia.
Taddei - First Act (with Leontyne Price)
Taddei - Torture scene (with Renata Tebaldi)
Cornell MacNeil
was a compromise between Gobbi and Taddei. Capable of singing the role, as Taddei, was however not as refined, not really an aristocrat, but a Government employee.
MacNeil -Tre sbirri.... una carrozza
MacNeil -Torture scene (with Shirley Verrett)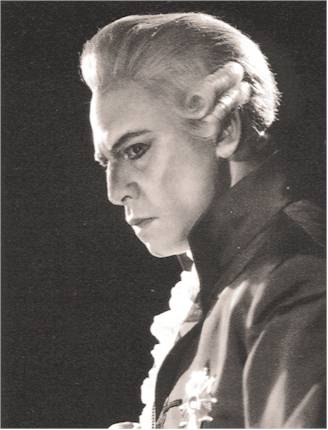 George London
was an almost magnetic Scarpia, he is the quintaessential Hollywood bad guy, very far from being a refined and aristocratic Sicilian. Of course, his dark, superb voice is providing much of the characterization anyway.
London - Te Deum
London - Finale of Second Act (with Maria Callas)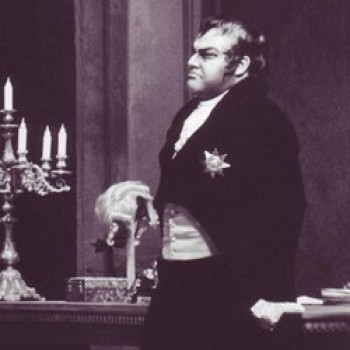 Ingvar Wixell
was a rather honeyed, bland Scarpia. A veteran of the role, and not the most polished of baritones, he was able to deliver, nonetheless, a solid Second Act.
Wixell - Te Deum
Wixell - Second Act Finale (with Kiri Te Kanawa)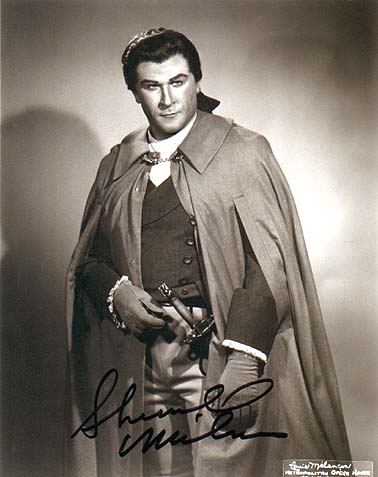 Sherrill Milnes
, a rather ligth-sounding Scarpia, but properly lecherous, perfidious, depraved..., with a tendency to forget about singing in the middle of some phrases.
Milnes - Te Deum
Milnes - Second Act Finale (with Renata Scotto)
Renato Bruson
is an uncompromising 'singer' Scarpia, and perhaps the best ever recorded "Tosca divina la mano mia", and the worst recorded "Te Deum". It's an elegant, devious, Machiavellian villain.
Bruson -Quanto?..Il prezzo! (with Daniela Dessì)
Bruson - Second Act Finale (with Martina Serafin)
Who are the Scarpias we can watch in our lyrical theaters those days?.
Well, sadly we are even worse served than with Cavaradossis... Just learning that the two baritones singing Scarpia in the next production at La Scala are George Gagnidze and Marco Vratogna, give you all the information you need.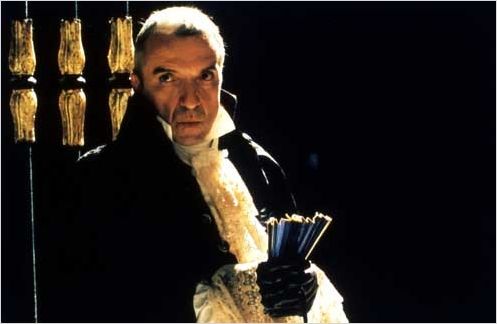 However, until very recently, the veteran
Ruggero Raimondi
was a good Scarpia, with his acting skills keeping alive the part, even beyond what the voice can do by itself.
Other illustrious veteran,
Leo Nucci
, is decent enough, though Scarpia had never been his best role at all.
So the best Scarpia today is
Bryn Terfel
, in spite of his gruesome approach to the role, and his less than refined singing, and lack of "italianita":
I guess we will soon watch Mr. Domingo singing the role.