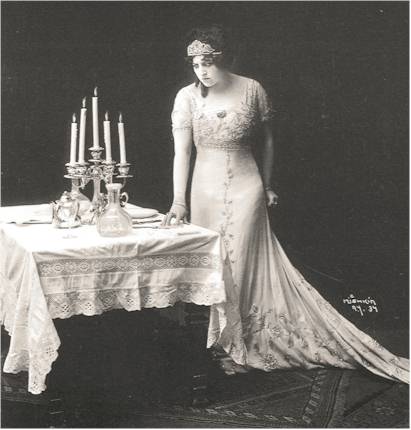 Claudia Muzio as Tosca
First Chapter
Claudia Muzio, "La Unica", "La Divina", was a fascinating artist. During her 25 years' career she got devoted admirers in every theater she was singing, and after more than 7 decades after her death, her voice, her art, cross this time with ease, and she is here with us, just like she will be prepared to sing a Traviata tomorrow.
As a singer, she had some important shortcomings, that only got worse with the passing of time. Also, some of her recordings are not in good sound quality. We will review them later in some chapters of the article.
However, with Claudia Muzio those problems, instead of distracting or annoying, or orcing us to consider them with a cold mind, are so craftily used as an expressive resource by the artist, that we are prepared to condone them completely.
Because, when we are listening to Claudia Muzio in Traviata, or in Tosca, or in Andrea Chenier,... is not just a soprano singing a role. Magically, Muzio make us forget there is a singer at all. Suddenly, we are before Violetta Valery, Floria Tosca, Maddalena de Coigny,...
Giacomo Lauri-Volpi, a colleague, friend and admirer, wrote:
Claudia's voice was limited, but with unsuspected resonances, because in each note there was a vibrant feeling. After listening to her singing, you realized that her sweetness will remain in you forever.
We wil close this chapter with Muzio singing in 1935, one year before her death, "Ombra di nube", a song composed especially for the soprano by his friend, the priest Licinio Refice.