Verdi intended
La Traviata
to be not only a musical entertainment, but a challenging work of theatre. Going against operatic tradition, he presented a modern-day drama of the Parisian demi-monde, featuring a courtesan who tries to embrace a more conventional life, is thwarted by social stigma, and succumbs to the ravages of tuberculosis.
Nevertheless, despite Verdi's scrupulous intentions, from its very premiere the work has been staged in other than the originally intended setting. Censors, afraid of the work's topicality, caused the first productions to be set in the safe distance of the early 1700s:
From its initial appearance, then, there has been some question about what constitutes a "traditional" staging of
La Traviata
. Of course, the work has frequently been (and is still to this day) presented in the realistic nineteenth-century setting Verdi envisioned. But more and more, and especially over the last two decades, directors have taken revisionist "regie" approaches to the opera, exploring its themes of sexual commerce, oppressive notoriety, restrictive social conventions, failed love, and stigmatized disease in new and distinctive ways.
The following essays will focus on a variety of modern interpretations from the past twenty years. We will look at stagings where the director has departed in a significant way from a realistic evocation of early nineteenth-century Paris--whether by updating, relocating, abstracting, or otherwise removing the action from its traditional confines. We will also consider the varied interpretive impulses behind these stagings and the possible new light they may shed on Verdi's masterwork.
These essays will not be a set of reviews, but rather a survey. I haven't seen most of these productions, and most are not available on video. My comments, then, will necessarily be based on descriptions and assessments from secondary sources. Also, the essays won't focus primarily on performers, though there will be some mention of their contributions, particularly if they were significant in the initial success (or failure) of the production. But performers will be a secondary concern, since a director's concept and staging is largely independent of particular singers (and in fact a given production will often go through multiple casts over several years, sometimes in different venues).
With these guidelines in mind, then, we can begin our survey.
1991 - Nicholas Muni, New York City Opera
Muni's production caused quite a stir by updating the action to a contemporary Manhattan scene. Violetta became a professional escort, with Annina as her secretary and Gastone her manager. Violetta's great aria at the end of Act I was presented not as a private monologue, but as a come-on addressed to the lustful Baron while she undressed. In her second-act scene with Germont, he hinted at a more than paternal affection for her. Flora's party was filled with substance abusers and some light S&M action, and Alfredo threatened the crowd with a gun as he castigated his former love. Most notably, Violetta expired from AIDS in a hospital ward, her poignant death scene punctuated by interns entering with life-support systems. All this action played out on a modern set consisting of steely drapes and a few austere stage objects, suggesting a contemporary decadence.
Peter G. Davis
of
New York
magazine wasn't sold on all of the director's choices: "Some seem forced to fit the concept, others fight with the music, and a few are outright miscalculations." Nevertheless, he singled out Sheryl Wood's commited Violetta, and concluded that the production provided "a fresh appreciation of why Verdi continues to be such a vital and modern-day presence."
Not everyone was so accomodating. The veteran Austrian stage director
Wolfgang Weber
offered this critique of Muni's production before it even opened: "If you want to make her die of AIDS and living in our own times, then you should rewrite the libretto and get a contemporary composer to write the music." Weber saw the opera as having contemporary relevance even without any updating: "Cannot the audience see that Violetta is dying because nobody takes care of her? As a courtesan, she was queen of society in her time, but at the moment she got sick, society turned away. And then the opera audience goes out of the theater and sees people dying in the streets at their feet. Why do you have to update? It's all there."
Neverthless, it can be argued that Muni's updating to an AIDS theme has an even more specific relevance. As
the publicist for a more recent production
of the opera has written, "Consumption was in many ways the AIDS of the 19th century – a wasting disease that ravaged promising young lives, including a generation of artists." Similarly, Susan Sontag, in
AIDs and Its Metaphors
(1989) argues, as
one opera blogger
summarizes, that "tuberculosis exerted a similar mythological hold on the cultural imagination in the 19th century as AIDS and cancer exerted over the 20th."
Of course, the parallel between the two diseases is not exact, and Sontag does point out differences in the perceptions surrounding them. As
Meera Seth
says in her review of the book, "tuberculosis was often viewed as a positive enrichment of one's character . . . on the other hand, only negative metaphors and connotations have been ascribed to cancer and AIDS. It is the AIDS patient who faces the worst fate, as he is viewed not as a victim, but rather a pariah."
But perhaps this historical distinction does not apply so much to
La Traviata
. After all, as the opera's very title indicates, Violetta is a "fallen one," not just the victim of her disease, but of the capricious lifestyle that exacerbates it. Similarly, in that first decade of its appearance, AIDS still carried the stigma of being not only a "gay disease," but also one associated with permissive sexuality. To that extent, the analogy with Violetta Valery may not be so tenuous.
In fact, the connection between
La Traviata
and the trials of the gay lifestyle had been in the air for some time before Muni's production. Two years earlier came the New York opening of Terrence McNally's play
The Lisbon Traviata
, concerning a troubled gay relationship and one partner's love of the diva Maria Callas. Though the text barely mentions AIDS, its spectre hangs over the characters. As
David Roman
says of the play in his book
Acts of Intervention: Performance, Gay Culture, and AIDS
, "AIDS informs the reality of its protagonists as a shadow that threatens to intercede at any moment; it is the woeful component underlying the play's tragic capabilities. Like Violetta's consumption in Verdi's
La Traviata
, AIDS in
The Lisbon Traviata
provides the means by which all opera's grand denouments can be realized. Both
Traviatas
are, after all, about love."
Two years after Muni's production came a film that gained wide popular acclaim, Jonathan Demme's
Philadelphia
. Here again, the sufferings of gay men scourged by AIDS was given a passionate outcry through opera and the voice of Maria Callas (though not in this case singing Verdi).
In this respect, then, Muni's staging of
La Traviata
through the lens of the AIDS crisis, even if an imperfect analogy, proved timely—a production that was lent a powerful urgency by relating Verdi's drama to a specific, deeply felt issue of the day.
1991 – Axel Corti, Frankfurt Opera
In the same year as Muni's New York production, across the Atlantic the Austrian writer and film director Axel Corti offered his own updated version of
La Traviata
. According to the
Frankfurt Opera
website, Corti held that "it was not necessary to stage the work in the 19th century because the opera, maybe more than any other, has a relevance to every age, a relevance which during the history of performing the work since it was written was often denied."
While maintaining Verdi's original location, Corti drew upon his own childhood experience to set the story in the Nazi-occupied Paris of the early 1940s. This shift presents some problems, as Corti acknowledges: "Courtesans have died out, it is true." But in this updated version, "his Violetta is rejected by society for a completely different reason. She is Jewish, and at a time when deceptive safety could quickly turn into terrible danger." Along with her physical disease, then, there is a growing external threat, so that ultimately Violetta does not die in bed, but rather on the floor of the second-class waiting room in the railroad station in Orléans while trying to flee from the Nazis.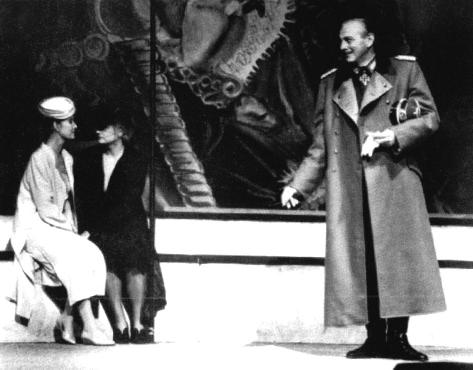 Unfortunately, it is difficult to find further information about the production. It would be intriguing to have more details about how the concept is carried out, since on the surface it might seem an unlikely premise--more
The Diary of Anne Frank
than
La Traviata
.
Apparently, though, the approach is quite successful, since the production has been extremely popular. Corti's staging has been in the company repertoire for twenty years and has been revived twelve times. The most recent incarnation opened on October 8th of this year to celebrate the production's 100th performance.
It is also interesting that Corti's approach should achieve such popularity in Frankfurt, in the heart of Germany. In this staging, it seems, Violetta's tragedy has become bound up with the ongoing national expiation for the sins of the past.
1994 – Harry Kupfer, Komische Oper Berlin
Famed director Harry Kupfer had put off attempting
La Traviata
, largely because he was waiting until he found the right Violetta. He did so at last in the person of the young Swiss soprano Noëmi Nadelmann, who was not only beautiful, but possessed a fine voice and technique along with considerable acting skills. Her presence enabled to Kupfer to build a dark, austere production around her. According to reviewer
Della Couling
, "Without destroying the pathos, Kupfer has stripped off the sugary coating generally applied to productions of this opera."
Couling gives an evocative description of the opening moments: "As the overture begins, we see a huge black tunnel running diagonally across the stage and out over the pit. A shrouded figure in white has her back to us. She turns as the overture ends, and we see a beautiful, sad face. At those first feverish bars, she throws off her cloak: most of the far wall of the tunnel is revealed to be a row of doors with mirrored backs, which swing open and spill out Violetta's guests, a nightmarish crowd of painted women and conspicuously wealthy men in evening dress."
Once the guests depart, Violetta is alone once again in the tunnel. At the end of the act, the stage revolves slightly, and the doors at the rear open to reveal the brightly-lit country garden of Act II. Less information is available about this section of the opera, since apparently the final act was the production's most memorable.
In that last scene, Violetta is alone in the tunnel once more. As she dies, she hallucinates, losing her grip on sanity. Annina is dressed as a nurse or prison guard, while the return of Alfredo and Germont is nothing more than an illusion. Neither of them enter the tunnel where Violetta lies dying. As the doors swing open once more, Alfredo appears mirrored many times, with the second-act country garden behind him.
Nadelmann has brief lucid moments where she is able to mock the illusory happy ending, giving a cynical toss of her head as she asks Alfredo to give her portrait to whomever he will marry; at the same time, we see a dumb show of this bourgeois wedding through the open doors. In the final moments, even this comforting delusion forsakes her, and Violetta is left alone to die in the gutter.
As the photos below suggest, this pared-down production relied, perhaps more than most, on the commanding presence of its female lead.
1999 - Götz Friedrich, Deutsche Oper Berlin
This production, one of the last works by the great German stage director Götz Friedrich before his death in 2000, has been a staple of the Deutsche Oper Berlin for over a decade. With nearly 100 performances, it has served as a vehicle for such notable Violettas as Patricia Ciofi and Anja Harteros.
Friedrich gave the opera an eclectic updating, with costumes ranging over the entire twentieth century. The set throughout the drama was a single all-black room; this underwent minimal changes from one scene to another, though the high doors on the side and back walls opened at several points to reveal background action. The most significant set piece was Violetta's downstage deathbed, which assumed various shapes and functions as she flashed back over her past. As the
company website
proclaims, "By presenting Violetta's tribulations in the form of a retrospective narrative, Götz Friedrich has given his tragedy the atmosphere of a requiem."
During the prelude, Violetta, all in white, lay pallid and still on her white bed, bathed in a spotlight while the dark set surrounded her like a huge tomb. As the party music began, she sprang to life and donned a vibrant red robe. The bed became a divan, the Parisian crowd poured in, and the flashback began.
In Act II, Violetta wore a more domestic yellow dress. The spare stage looked little like a luxurious country home, though the doors at the back opened to reveal a few trees. Germont arrived accompanied by his daughter, who remained in the back, a silent presence nervously walking back and forth as her father pleaded with Violetta on her behalf. It was a novel idea to show the young woman, though at least
one reviewer
found that the actress chosen "was much too childish to be credible."
In the party scene, Violetta wore a more innocent white, with her hair primly pulled back. The action was full of various entertaining gags, though a chorus of bohemians and bullfighters substituted for the usual dancers.
After the party scene, the humiliated Violetta removed the red cover from the divan to reveal her white hospital bed. Her financial, physical, and spiritual ruin was reflected in the decaying set, with unhinged doors and broken shutters looking, as
one reviewer
put it, "as if a typhoon had visited the place." The offstage carnival chorus appeared as colorful fireworks and three nightmarish giant figures in festive dress but with death's heads. In this stark setting, Violetta acted out the sad fate that had been foreshadowed from the beginning.
The production has received mixed reviews over the years. Many point out that the flashback idea is hardly original, having already been employed, for example, in Zeffirelli's famous film. Others maintained that the bare set and eclectic costuming lacked a striking, coherent vision. While
one reviewer
felt that the production was "full of insights and observations" and "has you completely engrossed from beginning to end,"
another
concluded that, "all in all, this added up to just one more
Traviata
."
2003 – Calixto Bieito, Hannover Staatsoper
Catalan bad boy Calixto Beito was hired to bring new life to Hannover Staatsoper. His highly controversial productions of
Il Trovatore
and
Don Giovanni
drove audiences away, but his third effort,
La Traviata
, won critical and popular praise. This may have been in part because of what reviewer
Jochen Breiholz
called "the director's talent for carving totally credible real-life characters. Each gesture, glance and movement had the precision and perception of a brilliant dramatic film." But it also may have been because the company's intendent reigned in some of Bieito's more outrageous choices.
For all his frequent liberties, Bieito sees himself as honoring the true intention behind the text. As he said in
an interview
, "With
La Traviata
, Verdi made a clear argument in favor of women. He wanted to give a second chance to explain the story of a prostitute whom society cannot truly love, while making a scathing attack on the bourgeois double standards of the time. He made it through the lens of melodrama, which was what was fashionable at the time. I do it from my own contemporaneity . . . That is why my version of Violetta has nothing to do with a prostitute who ends up dying of consumption. She's a strong, independent women, like Ridley Scott's
Thelma and Louise
."
Bieito also used Heidi Fleiss, the infamous Hollywood Madam, as a model in making Violetta a modern prostitute and hard-headed businesswoman. As Breiholz said of Bieito's concept, "His
Traviata
unfolded like an unsparing, sexually explicit documentary, or a sociological tract about an exploited woman who fights back."
In Bieito's version, Violetta lived in a stylish white duplex, with a bar downstairs and a bed upstairs, where guests paraded around decked out in thongs, low-cut corsets, and black stockings while party music was played by a jazz band. Natalia Ushakova's Violetta spent most of the evening wearing sexy lingerie, doing provocative pole dances, and entertaining her guests with erotic videos of herself.
One noteworthy change was the merging of Annina and Flora into a single character who served as Violetta's friend, manager, and possibly lover (
one reviewer
was reminded of the Countess Geschwitz from Berg's
Lulu
). This figure was an almost constant presence onstage, becaming even more prominent by appropriating Alfredo's Act II cabaletta "O mio rimorso" and the Gypsy chorus. Breiholz predictably felt that this newly created character "did add interest to the proceedings but took the focus off Violetta – and her expanded role had little to do with the composer's intentions."
In this cynical world where money predominated, Alfredo's father became a sadistic regular customer of Violetta, raping her to show that she was nothing more than a commodity to him.
Perhaps most radically, in the final scene of the opera Violetta was perfectly healthy, staging her death simply to get rid of Alfredo and run off with her lesbian lover. At the end the two women were seen with suitcases and plane tickets in hand as they waved little Brazilian flags, apparently on their way to Rio. As Breiholz remarked, "This heroine refused to accept the role of victim."
2003 – Peter Mussbach, Staatsoper Unter den Linden (Berlin) / Festival d'Aix-en-Provence
This co-production appeared in the same year in both Berlin (with Christine Schäfer as Violetta) and Aix-en-Provence (with Mireille Delunsch). Describing his concept, director
Peter Mussbach
said of the opera, "This is the story of a dying woman. It is written as such. This is what it tells. During the performance, this woman dies before our eyes, in what is practically a live event." For Mussbach, Violetta's death was the overpowering reality, so that her life could seen as if it were "already a memory. A sort of virtual image . . . The images of a life that may now only be seen through the perspective of a rear-view mirror." In this production, then, the action was drained of almost all signs of vitality, so that Violetta's story could be presented as one long extended death scene.
Violetta never left the stage throughout the entire performance, which was given without intermissions. Spending much of her time huddled on the floor, she appeared dressed in a white gown, perhaps a wedding dress, which gave off an eerie glow, sometimes making her look as if she were suspended mid-air. Her blonde hair gave her more than a passing resemblance to Marilyn Monroe, heightening the sense of impending doom. She was pale and ghostly, drained of all life, more a wraith or specter than a living being.
Around her was nothing but a bare stage, except for a few chairs and water dripping on clear plastic curtains that divided the front and back areas. Neon stripes made the stage floor appear to be a strip of highway, while lazers and projections at times superimposed film footage of a tunnel or city bridge glowing in the dark. The audience traveled with Violetta through the dark night along a highway to death, with no bright spot anywhere on the inexorable journey. As the
Mostly Opera
reviewer put it, "the contrast between Verdi´s music and this sickly atmosphere is astonishing."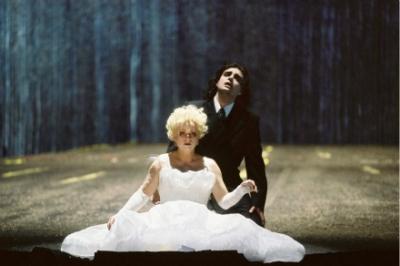 The Aix-en-Provence staging is available on DVD. Opera News called it one of the best opera DVDs of 2007, but viewers' reactions--to the production itself and to Mireille Delunsch's Violetta--have gone to both extremes.