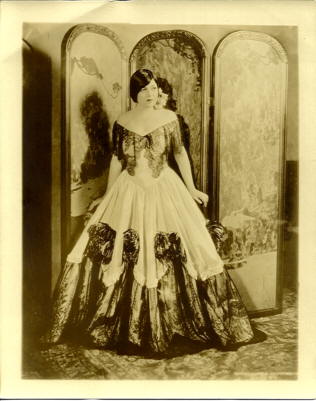 Ponselle as Violetta
Rosa Ponselle's most cherished operatic project was to sing Violetta. She was powerfully attracted by the dramatic weight of the role. From a purely vocal point of view, after having sung Norma's coloratura with great success, she was confident Violetta will not be a problem. Of course, she understood that her voice was larger, darker than that of sopranos like Galli-Curci or Tetrazzini, but she also thought it was ideal for the second and third act. Maestro Serafin supported Ponselle, and advised her to study the role in Italy, with Gemma Bellincioni.
Bellincioni as Violetta, in 1903
After her great success there singing Norma and Gioconda, Ponselle wanted to sing her first Violetta in London, and was a complete triumph for the american soprano, with an outstanding ovation at the end of more than 30 minutes.
The Times
considered her the best Violetta of all times.
Among the audience was a young Zinka Milanov that declared later: "The voice of Ponselle in Traviata was light, but powerful, with the right colour to perfectly present the drama".
After this, Ponselle was very confident for her Traviata debut in the MET, with Lauri-Volpi and De Luca. However, the reviews were not as good as she was expecting, with the critics on fire about transposing "Sempre Libera" a full tone down. Even her colleague (not friend) Lauri-Volpi, said:
Rosa's voice is like a human cello, but her B4 and her C5 are not always available, and where they are, she fights to sustain them. In Traviata, neither her first act, not her "Amami, Alfredo" are really top class. It would has been better for her never to sing Violetta, this just ruined her top notes
Ponselle, to be sure, was always a little bit unsecure about her top notes, true. Even if during her first years, they were a marvel to hear. However, trying to lighten her voice to sing Violetta the 'soprano coloratura' way, did damage her voice. However, she was one of the firsts to give Violetta her true dramatic stature, and provide a fully convincing portrait of the sick and loving woman. This is one of the best Violettas of all time.
Ah, fors' è lui...Sempre libera - Ponselle, 1935
Duet Giorgio / Violetta - Ponselle with Lawrence Tibbett, 1935
Addio del passato - Ponselle, 1936