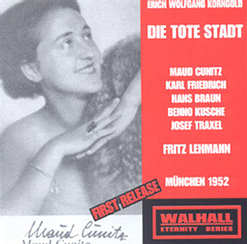 Die Tote Stadt
Munich Radio
1952
Paul
Karl Friedrich
Marie/Marietta
Maud Cunitz
Frank
Benno Kusche
Fritz
Hans Braun
Brigitta
Lillian Benningsen
Conductor
Fritz Lehmann
This version comes from a radio broadcast with the orchestra and choir of the Bayerischen Rundfunks. Lehmann gets a good answer from the orchestra, and this is a very analytic performance, with a nice instrumental texture.
Singing is not at the same level, unfortunately. The best one comes from Karl Friedrich, that with limited means is able to offer us a sober portrait of Paul. On the other hand Maud Cunitz, with similar vocal resources, sounds acid and out of tune.
Though the two main roles are the most important, Franck, Fritz and Brigitta are also key to a good performance. In this case, the first scene, of a fascinating beauty, between Frank and Brigitta is sung very poorly, and the rendition of "Mein Sehnen, mein Wähnen" by baritone Hans Braun is definately second (or even third) rate.
This is recommended only for lovers of
Die Tote Stadt
, though the orchestra is really good.
Overall: C
---
Die Tote Stadt
Munich Radio
1975
Paul
René Kollo
Marie/Marietta
Carol Neblett
Frank
Benjamin Luxon
Fritz
Hermann Prey
Brigitta
Rose Wagemann
Conductor
Erich Leinsdorf
Again the Bavarian orchestra and choir tackle Korngold's beautiful but difficult score. Now, twenty-three years later, they are conducted by Erich Leinsdorf, and again the result is very good. Most centered in the sensuality, in the pure joy of this irresistible music, that the analytical approach of Lehmann, but also a very valid reading, especially in a splendid Second Act.
René Kollo sings an interesting Paul. His main shortcomings are in some poorly produced top notes, and the feeling of listening to an old boxer rambles on his old fights, instead of a man desperately missing his dead wife, in the great monologue of First Act.
Carol Neblett, with similar problems in the top notes, offers a convincing portrait of Marietta. She was coached by Maria Jeritza herself, and is the best Marietta on record.
The first scene between Frank and Brigitta is not really exciting, but later Mr. Luxon compensate in his dialogues with Paul. Hermann Prey's Pierrot lied is a wonderful piece, a reference, though a little bit too slow.
Recommended for all Opera lovers.
Overall: B+
---
Die tote Stadt
Royal Swedish Opera
1996
Paul
Thomas Sunnegardh
Marie/Marietta
Katarina Dalayman
Frank
Anders Bergström
Fritz
Per Arne Wahlgren
Brigitta
Ingrid Tobiasson
Conductor
Leif Segerstam
This is a live recording, but in acceptable sound.
The Royal Swedish orchestra is not the Munich orchestra, nor Segerstam's reading is close to either Leinsdorf's or Lehmann's. He concentrates too much on the potency, the building of Korngold's sound wall, but misses the details, the many orchestral nuances that made this opera so unique.
Thomas Sunnegardh is imitating Mr. Kollo, but it's far from the original.
Katarina Dalayman is the best part of this recording. The top notes are a little bit throttled, but she does depict Marietta, the young dancer. Not so much, Marie, the dead wife.
Both baritones are barely adequate, but Ingrid Tobiasson's Brigitta is really poor.
The justification for this recording was in its budget price, but with Leinsdorf's being available now also as a budget option, it's not really a good choice.
Not recommended.
Overall: D
---
Die tote Stadt
Wiener Philarmoniker
2004
Paul
Torsten Kerl
Marie/Marietta
Angela Denoke
Frank
Bo Skovhus
Fritz
Bo Skovhus
Brigitta
Daniela Denschlag
Conductor
Donald Runnicles
Kerl and Denoke are regulars of the opera, that have been singing, together or separate, several times. Also conductor Runnnicles. This performance from Szalburg are their best achievement.
Runnicles gives us a version more agile, a little bit restless, less romantic that the other conductors. It adapts very well to a superb First Act that to the rest of the opera, but it's a great performance. The Viennese orchestra, as usual, is just fantastic.
Torsten Kerl is a very solid Paul, and this is his best performance in the role. He doesn't have the perfect vocal instrument to sing the role (who has?), it lacks some power and also the top notes are very demanding for him. He uses falsetto sometimes, but in this case taking advantage to introduce an interesting component, something unreal that really mix well with the story and the score.
Denoke's voice is not Marietta's, either, but she manages to produce the notes, they seem to be struggling in her throat, just striving to leave her body... but they are finally released. She is convincing enough in the long oneiric scene.
Skovhus is able to defend the double role of Frank/Fritz, again singing the Pierrot's lied too slow, but his first scene with Daniela Denschlag's Brigitta is really good.
Recommended to all Opera lovers.
Overall: B+
---
Die Tote Stadt
Frankfurter Opern und Museumsorchester
2009
Paul
Klaus Florian Vogt
Marie/Marietta
Tatiana Pavlovskaya
Frank/Fritz
Michael Nagy
Brigitta
Hedwig Fassbender
Conductor
Sebastian Weigle
Weigle is an old hand at this opera, having conducted it a few years before, at Liceu. The Frankfurt orchestra is underrated, it's one of the best German orchestras and we can hear why in this recording.
Vogt is the best Paul singing the role today, and this is his only official recording. Maybe it's not one of his brightest days, but it's always a great portrait of the complex and tormented young widower. His uncanny ability to let his voice float in the most lyrical parts of the score is just amazing.
Tatiana Pavlovskaya is a nice singer, but Marietta is a little bit too much for her at this stage in her career. Perhaps her performance would have been worthy of a better judgment in a DVD, as her acting ability was good enough, and the Frankfurt production, quite interesting.
Michael Nagy is a Frankfurt habitué, that sings anything from Wolfram to Papageno to Marcello... and it shows. Hedwig Fassbender was a rather adequate Brigitta.
Recommended to lovers of
Die Tote Stadt
.
Overall: B-
---
Die Tote Stadt
Orchestre Philarmonique de Strasbourg
2001
Paul
Torsten Kerl
Marie/Marietta
Angela Denoke
Frank
Yuri Batukov
Fritz
Stephan Genz
Brigitta
Brigitta Svenden
Conductor
Jan Latham-Koenig
This is a failed production.
To start with, Kerl is singing well, but his acting skills are cruelly exposed. However, Angela Denoke, in a bad day, is singing much worse that in her Szalburg recording, but she carries her acting duties diligently. The supporting cast is uniformly mediocre.
Latham-Koenig, a nice conductor for other works, is here miles away from the right mood to play
Die Tote Stadt
. It really sounds as elevator music, a rather dull accompaniment of the action. The orchestra is not a protagonist, as it should.
But the weakest element is the staging. There are really some details in pretty bad taste as turning Paul's obsession to keep some mementos of his dead wife into an active necrophilia; the progressive bombardment affecting the scenery; the apparition of the infant Korngold to play in the piano Marietta's lied... However, the main issue is the absolute disregard to the spirit of the opera, murdering Frank in the oneiric scene and the suicide of Paul, that is unable to wake from his reverie.
Recommended only for Eurotrash lovers.
Overall: C
---
Die Tote Stadt
Orchestra & Choir Teatro La Fenice
2011
Paul
Stefan Vinke
Marie/Marietta
Solveig Kringelborn
Frank/Fritz
Stephan Genz
Brigitta
Christa Mayer
Conductor
Eliahu Inbal
In this production, Pier Luigi Pizzi is really respecful of the libretto, the music and the intention of the Korngolds. However, it's rather dull and a little bit boring.
Stefan Vinke is not Paul. He can't sing this role. Wonder why someone, himself included, pretended that he can.
Kringelborn is not in her best form (I've heard her singing a much better Marietta in Madrid), but she at least kind of manage with the score requests and she is a decent actress.
Genz sings Frank... or Fritz... or both, who cares?. Christa Mayer is an average Brigitta.
Veteran conductor Eliahu Inbal tries, but this is not really the best repertoire for La Fenice orchestra.
Recommended to lovers of
Die Tote Stadt
.
Overall: C