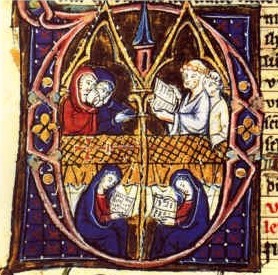 [/I]
In the opera's plot, there is a procession of Beguines. What were exactly those "Beguines"?.
Towards the end of the 11th century there are the first documents about the existence in Flanders and Brabant, then part of the Holy Roman Empire, of women living alone or in small communities, whitout pronouncing sacred vows, but helping the poor, the sick... At the beginning of the 13th century, those congregations, that there were more numerous, received the name of Beguines.
They were no nuns. Any Beguine could, if she wished, marry and have children, keep property, live with her sisters or at her own home...
Lacking a Rule, each community tended to create its own patterns. Generally, there was a single congregation in each city, except in the biggest.
As so many other orders, secular or religious, the Beguines were accused of heresy and witchcraft... The Reformation also started to undermine the Beguines, that preserved their faithfulness to the Roman Church. After the French Revolution, and the occupation of Flanders by the French troops, many of them just dissapeared.
Only in the cities of Leuven, Ghent and Bruges there were still some Beguines until the Second World War. The procession in the opera was then one of the last remaining traces of a movement with almost one thousand years of age.
Melitta Muszely and Rudolf Schock sing "Glück, das mir verblieb":