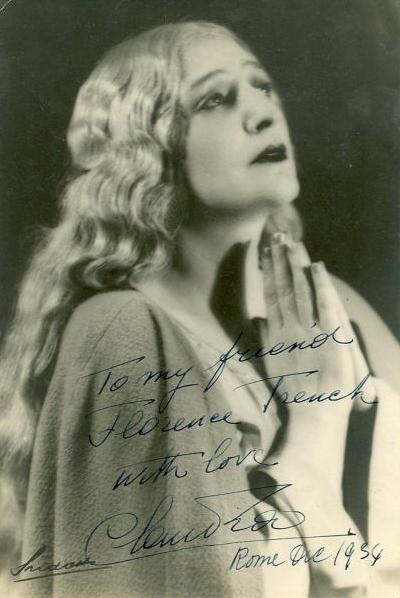 Claudia Muzio as
Cecilia
In 1934, the 15th of February, Claudia Muzio premiered in Rome the opera
Cecilia
, by Italian composer Licinio Refice. Some months later, she started working in Milan for the wonderful Columbia recording, starting precisely by an aria from
Cecilia
. This is what Rodolfo Celletti said:
Originally Posted by
Rodolfo Celletti
She also sung
Cecilia
in Buenos Aires, receiving passionate praise:
Originally Posted by
La Nación
The ninth performance of the opera in Buenos Aires, the 21st of October, 1934, will be the last time Muzio will sing in her favourite theater. ( Not in the city of Buenos Aires, where she later offered an art song recital at Teatro San Martín).
The role of Cecilia was not written for Muzio (Refice had in mind the soprano Maria Viscardi while composing the opera), but she just took possesion of it, and offered a memorable interpretation. She also made a very good friend of the priest Refice, who just before Muzio's death, wrote for her a beautiful motet for her birthday:
"Custoditela, o Signore, come la pupilla dei vostri occhi. Sotto l'ombra delle vostre ali proteggetela
"
He was very worried by the health of the great singer.
Cecilia
is a nice opera, that was never lucky enough to be part of the repertoire. The plot is quite simple, the life of Saint Cecilia from her marriage to her martyrdom.
Claudia Muzio sings
Cecilia
: