Korngold, after the box failure of
Das Wunder der Heliane
, was a man with a family to care for, and his first responsibility was to procure a good living for his children, Ernst and George. He decided to park Opera for the time being, and revise the operetta
Eine Nacht in Venedig
, as well as starting a career as conductor.
Then he met the celebrated director and
impresario
Max Reinhardt, while working on a set of performances of
Die Fledermaus
, in Berlin. Both artists went along well and, some years later, Reinhardt invited Korngold to Hollywood, to prepare an adaptation for the screen of
A Midsummer Night's Dream
. Erich, that was working in yet another opera, but in some financial trouble, accepted.
Erich's work is to arrange Mendelssohn's music, composing some transitions and brief motifs to adjust the piece to the movie duration. The film is a failure in the box office, but Hal Wallis, Warner Brothers's musical department chief, is very happy with the professionalism showed by Korngold. As a token, he once went and asked to an editing specialist, with his heavy German accent: "How long is a foot", "12 inches", answered the condescending technician. "No, no, ... I mean, how long it takes on the screen". "Well, around 2/3 of a second"... "Good, this is just the first two bars of Meldenssohn's scherzo...".
Korngold family arriving to the US
Erich decided to come back to Europe, but the situation was getting worse and worse, especially in Germany, after Hitler was named Chancellor. Korngold was a Jew, and he wass very worried about his family. When he received an offer from Wallis, he immediately accepted it and the Korngolds boarded an ocean liner to start a new life in the US.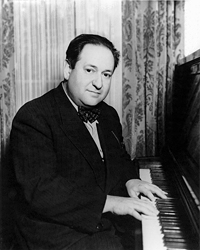 Erich Korngold in his first years in Hollywood
When Erich arrived to Hollywood, there was a change in the manner the industry perceived the music in the movies. In the first years of sound cinema, except in musicals, no great deal of effort went to the 'background music'. However, the many possibilities to underline the action and feelings being showed on the screen, were soon obvious enough.
Korngold and other pioneers of the movie soundtrack, composers like Max Steiner of Alfred Newman, will create a new sound, a new genre, similar to a symphony or a tone poem, but with different traits.
The first work or Erich was supposed to be a movie with opera stars like Tauber or Ponselle, but this movie was never shooted, and he started with a musical: "Give us the night", with a libretto by Oscar Hammerstein and Gladys Swarthout and tenor Jan Kiepura in the starring roles:
Give us the night
But the great success came with the soundtrack of "Captain Blood", premiered in 1935, an action movie directed by Michael Curtiz, with Errol Flynn, Olivia de Havilland and Basil Rathbone:
Captain Blood
For this movie Korngold wrote a sort of overture, "Main title", that sounds while displaying the initial credits, with the motifs that will later be used. Those motifs are being inserted and developed along the movie. All Erich's soundtracks will follow this technique. In a movie of around two hours, the typical Korngold soundtrack will be between 45 minutes and 1 hour length.
After "Captain Blood", Wallis offered an exceptional contract to Korngold, the best ever in a Studio where
'the Producer don't want good music, he just wants music for Thursday'.
. For the next twelve years, Korngold needed to work in a couple of movies every 18 months. This is the complete list of soundtracks composed by Erich Wolfgang Korngold:
Give us the night (1935)

Captain Blood (1935)

Hearts Divided (1936)

The Green Pastures (1936)

Anthony Adverse (1936) - Oscar

The Prince And The Pauper (1937)

Another Dawn (1937)

The Adventures of Robin Hood (1938) - Oscar

Juarez (1939)

The Private Lives of Elizabeth and Essex (1939)

The Sea Hawk (1940)

The Sea Wolf (1941)

King's Row (1942)

The Constant Nymph (1943)

Between Two Worlds (1944)

Devotion (1946)

Of Human Bondage (1946)

Deception (1946)

Escape Me Never (1947)
Then, in 1955, he worked in Wagner's biopic, "Magic Fire", directed by William Dieterle. It was his last work for the movie screen.
Korngold was one of the great soundtrack composers of all time. Arguably, the greatest. Some of his soundtracks are very good pieces of music, "Robin Hood", "Juarez", "Anthony Adverse",... My favourite, however, is the splendid "Between Two Worlds":