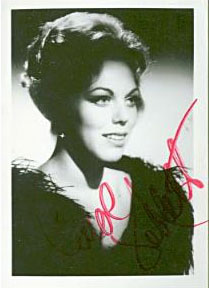 In my view, Carol Neblett has been the best Marietta on record. She sings the character with a combination of sensuality and tenderness that renders the young dancer almost irresistible. We can hear her Marietta in the Leinsdorf's recording, but also live in some performances from the New York City Opera.
During her career, also benefiting from her attractive figure, her big and lovely voice, together with some reasonable acting abilities, she was often praised by the critics and very well liked by audiences worldwide. We can listen to her Minnie and her Vitellia:
However, she also sung some below average Toscas, Aidas or Normas. After some years in the limelight, she practically disappeared from the stage, being still young.
On one side, she sung too many roles, in too few years. Also, she had some drinking problems, and one of her children died in a traffic accident. She was not able to overcome all of those issues, and now, in her sixties, she is a voice instructor.