Metropolitan Opera production by Robert Carsen, Set and Costume designs by Michael Levine, Lighting design by Jean Kalman, Choreographer Serge Bennathan, Stage Director Peter McClintock
New York City, Metropolitan Opera House, February 2007
This beautiful minimalistic production opens with a fall foliage cascade with the isolated figure of Eugene Onegin on the center of the stage, over simple tall walls.
Next we see the Larin garden represented only by some tree trunks, where the peasants dance over the fallen leaves from the introductory set.
Spaces are delimited by very simple devices - such as the leaves themselves in Act 1 Sc 2:
This is repeated in the Larin ballroom scene, when a square of assorted chairs all in different styles are the only device that suggests that this is a ballroom.
Similarly, the Gremin ballroom is only suggested by the luxurious clothes of the guests.
Tatyana's bedroom gets only a bed, and a trapdoor on the floor which is how the nursemaid gets in and out.
The Duel Scene is set purely using bluish lighting to suggest the cold morning on a desolate field.
I find this staging to be very successful and strikingly beautiful. I'm aware that many don't like it for being too minimalistic. I believe that the open spaces add a lot to the dynamics of the scenes, and allow the operagoer to concentrate on the fine nuances of the characters and the sublime music. It's a no-nonsense, non-intrusive approach that does not fail to bring up the qualities of a period staging (mostly in the characters' costumes) allied to a modern and sleek look.. This is one of my favorite stagings in all of opera. It is available on Decca blu-ray:
Other stagings: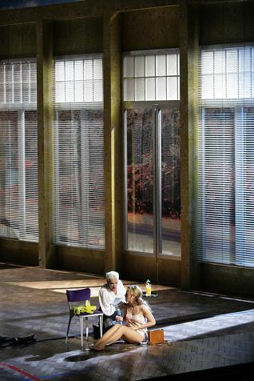 An updated version with modern furniture, and rooms with large modern windows was given at the Bayerische Staatsoper in Munich in 2007, a production of Krzystof Warlikowski, scenery and costumes by Malgorzata Szczesniak. Tatyana in this production lays on the floor at the end of the Letter Scene, emotionally and physically drained. Onegin and Lensky in this production are homoerotically involved, and a cowboy ballet with young men with bare chests and cowboy hats are provided - erm... Okaay...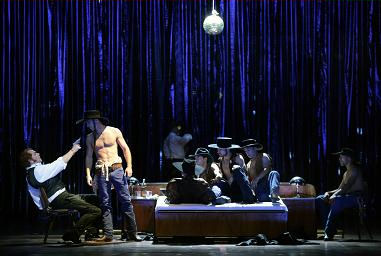 Here is an oddball, Regie staging of Eugene Onegin, by Nederlandse Opera in June of 2010,new production by Stefan Herheim, sets by Philipp Fürhofer, costumes by Gesine Völlm, lighting by Olaf Freese. Past and present overlap, the timelines are changed, and it is all done in flashbacks (a tampering that I don't approve of). We get a dancing bear in the first ballroom scene, Mr. Triquet summons a sparkling star that shoots sparks...
And then, we get Russian astronauts... not a staging for every taste.
Those who dislike these shenanigans may rather appreciate the Mariinsky stagings, such as one of 1982 by Yury Temirkanov, sets by Igor Ivanov, and another one of 2012 with similar sets, all with the conventional luxurious ballroom scenery with huge columns and chandeliers.
Also very much praised by traditionalists was Deborah Warner's 2011 production for the English National Opera, although it was slightly updated from Pushkin's time to a Chekhovian late 19th century. Sets include a huge barn at the Larin estate, and cold white marble columns for the Gremin ballroom, and look traditional enough with plenty of extras and dancers.
The Bolshoi Opera on the other hand sounded more adventurous in their 2006 production by Dimitri Tcherniakov (later revived at Covent Garden in 2010), making extensive use of communal tables.
This however produces some odd moments with the old divorce between the music / libretto and a stage director's exaggerated concepts, when for instance at the end of Act 1 Scene 1 it is announced that supper is served, while the characters have been for a long time around a dinner table already. Also, Tatyana's letter scene is switched from her bedroom to a room with a huge table (some have mocked this production as the Table Onegin):
Arguing that the plot is universal and can therefore repeat itself in any time or place, Tcherniakov sets the first two acts in pre-revolutionary Russia, but then places the third somewhere in western Europe in the 1950s. This has resulted in many negative reactions from critics.
This one is also available on video:
------------
Schigolch's contribution:
The worst thing about Tcherniakov's staging, like always, is that simply has nothing to do with
Eugen Onegin
. It's designed just to show another story, conceived by the regista, and that is supposed somehow to shed light on the opera, revealing secrets so deep than even the composer and the librettist were unaware of.
Just to give you an example, the main focus is not Tatyana and her love story with Onegin, but Lensky. He is a misfit that nobody cares for, and while he is singing his aria, Olga is searching for a lost earring. There is no duel with Oneging, he just gets killed when he insists to fight Onegin; he mocks him, and then Lensky produces a rifl, that accidentally gets fired in a struggle with Onegin, who is trying to calm him down. Lensky reappears later, singing Monsieur Tricquet while playing with a toy.
All this, of course, is very cheap. Almost anyone can devise this kind of thing in a few minutes; the real merit of Mr. Tcherniakov is that he is paid for it, and is being taken seriously.
Another very good production of Onegin is this one by Willy Decker:
First, in ocher-colored while the story is being presented, and then cold blue for the outcome. Minimalist, trusting in the movement, the singers and a few symbols to tell its tale.