Il Trovatore: Conte di Luna
Posted on
January 6, 2012
The role of Il Conte di Luna is for a standard Verdi baritone, that needs some very good top notes to sing the wonderful aria "Il Balen del suo Sorriso", a glorious melody that is ascending slowly to the high end of the singer's tessitura. A more dramatic singing is required for the terzetto "Di geloso amor sprezzato", or the cabaletta "Per me ora fatale".
Comparing with other baritones already in Verdi's past, like Nabucco, Macbeth or Rigoletto, this role is arguably simpler, with fewer psychological insights. Some will say that di Luna is more of an archetype than a real human being, though some of the music written for him is nothing sort of glorious. Others will acknowledge some more complex nuances in this character.
Apolo Granforte
was one of the singers belonging to the Gold Age of the Italian Baritone, and not one in the front row, either. But he can sing a noble and imperious Count, with a superb technique.
Granforte – Conte di Luna
Carlo Tagliabue
is a more fierce Count, but he is able also to sing with the right blend of dramatism and belcanto.
Tagliabue – Conte di Luna
Rolando Panerai
's voice was strained to sing this role, and he sounds unconvincing.
Panerai – Conte di Luna
Leonard Warren
sung very well the terzetto, though perhaps was a little mechanic in the great aria at the convent:
Warren – Conte di Luna
Ettore Bastianini
was also a good warrior, properly martial, but stealing us the man desperately in love:
Bastianini – Conte di Luna
Sherrill Milnes
is able to find this middleground, though his voice is not as opulent as that of some of his rivals in the role:
Milnes – Conte di Luna
Piero Cappuccilli
is a good singer, but his Conte is guilty of a big sin: boring the audience.
Cappucilli – Conte di Luna
Leo Nucci is the more famous performer of the role in the last twenty years. With reason?.
Nucci – Conte di Luna
------------
Il Trovatore: Azucena
Posted on
January 6, 2012
Azucena is the central role in the opera. She is constantly changing her moods, as we can tell just listening to Verdi's music. The vocal portrait is quite varied, as she must manage Belcanto
fioriture
in "Stride la Vampa", and dramatic singing in "Giorni poveri vivea " or the cabaletta "Deh rallentate o barbari".
This dramatic singing is at the same time something needed for tackling Azucena, but also a temptation to sing this way all the time, forgetting about the Belcanto part. This temptation must be resisted. to provide an accurate vocal portrait of the gipsy woman.
Irene Minghini Cattaneo
was a mezzo of the own school, her vocal means were very adequate, though she did not pay a lot of attention to the score.
Minghini Cattaneo – Azucena
Giulietta Simionato
sounds at the same time aggressive and sad, giving the role a becoming shade of melancholy. Her Act IV is nothing short of magnificent.
Simionato – Azucena
Ebe Stignani
sung Azucena for more than thirty years, and with her usual high standard. However, this was not her best role. Not even her second best.
Stignani – Azucena
The Azucena of
Fedora Barbieri
is perhaps the ideal encarnation of the "dramatic" style. Her cavernous voice and the notes that seems to be teared out of her chest are fully aligned with this impression.
Barbieri – Azucena
Almos the exact opposite of Barbieri approach,
Marilyn Horne
's Azucena is pure Belcanto. It's a joy to follow her rendition of "Stride la Vampa" score in hand.
Horne – Azucena
Fiorenza Cossotto
's voice was never that of a true dramatic mezzo, but her involvement and emotional rendition in the 'condotta' are really near the top.
Cossotto – Azucena
The best Azucena of the last twenty years is the American mezzo
Dolora Zajick
. A kind of middle ground between Barbieri and Horne, and even with the right 'physique du role'.
Zajick – Azucena
-------------
Il Trovatore: Leonora
Posted on
January 4, 2012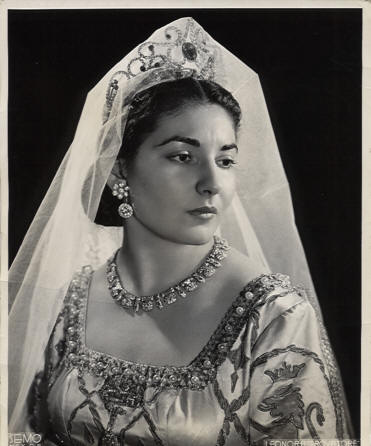 This role, all in all, needs a true
drammatico d'agilità
to really give the correct answer to all the different requests incorporated by Verdi to the score.
We want her to be a 'tragedienne' singing the
Miserere
, but to float in the air during the Convent scene, "Sei tu dal ciel disceso". Manage a very high-pitched aria like "D'amor sull'ali rosee", but also her fiendishly difficult
cavatina
, "Tacea la Notte Placida"…. It's not a surprise the usual cut of the Fourth Act
cabaletta
: "Tu vedrai che amore in terra", because so few sopranos are really able to sing it well after such a tour de force.
"Un' altra notte ancora senza vederlo…", this phrase introduces a young Romantic heroine, a girl full of love, that lives for this love, and finally dies for this love. We need to get back this side of Leonora also, what introduces an added layer of complexity to the role.
Stella Roman
, with a reasonably voice to sing Leonora, sounds too mature, too artificially sweet. We are missing about half of the ideal heroine Verdi is writing in the score.
Roman – Leonora
The superb voice of
Zinka Milanov
was heard as Leonora for many years. This is a velvety Leonora, with so rich overtones that really can take the listener away… and makes him forget that the style is not fully there.
Milanov – Leonora
Between 1950 and 1955,
Maria Callas
sung around twenty Leonoras, showing us the soul of the young maid in love, but with a wonderful attention to meet all the nuances in the score. Arguably the best Leonora on record.
Callas – Leonora
Renata Tebaldi
sounds angelic in "Tacea la notte placida", but a little bit too restrained in "D'amor sull'ali rosee".
Tebaldi – Leonora
At the same time imperious and subtle,
Leyla Gencer
was a superb Leonora.
Gencer – Leonora
A truly sumptuous voice, with velvety overtones,
Leontyne Price
's reputation as Leonora is however higher than her actual merit.
Price – Leonora
Montserrat Caballé
was able to bring to the role her reputed Belcanto singing technique, but also provides the Verdian drama.
Caballé – Leonora
Raina Kabaivanska
's Leonora is a refined creature, but we are missing the young girl in love and, even more importantly, the vocal homogeneity.
Kavaibanska – Leonora
Joan Sutherland
is one the greatest singers ever recorded, but she is not Leonora.
Sutherland – Leonora
Barbara Frittoli
is a good soprano, and a good musician, but Leonora is not in her throat.
Frittoli – Leonora
--------------
Il Trovatore: Manrico
Posted on
January 3, 2012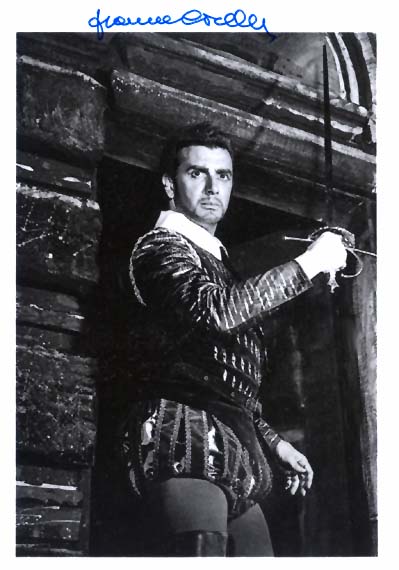 This is a role for a fearless tenor, heroic, brave… but also able to portrait a young man in love.
His range is from D-flat2 to A3 (in the score), or C4 (as demands a tradition started by Enrico Tamberlick).
This is a fascinating vocality, because we can find the Belcanto roots in pages like "Ah si ben mio", with its trills, or the mezza voce that Verdi demands in "Deserto sulla terra", but also with the new dramatic singing necessary for doing justice to "Ah quell'infame amor perduto" or the famous "Pira" itself.
In the 1850s, the choice was between a "tenore di grazia" or a "tenore di forza". But of course we need both. This is the really tricky thing for casting Manrico right, a very different role from the other Verdi tenors of the popular trilogy: Alfredo and the Ducca.
After singing "Ah, si, ben mio", written in the
passagio
(E, F, F sharp, G), with a noble and expressive line, but full of emotion,… you need to go to the "Pira". And then sing a high C?. Well, this
cabaletta
is not that difficult if you do have the high C, and a powerful voice (and the
fiato
to complete the line 'Madre infelice , corro a salvarti' before). So go ahead with it, or just respect the score if this high C is not available, but the real important thing here is to really sing well the
cantabile
(there is another high C sometimes sung, horribly, in "Ah,si, ben mio": la morte a me A MEEEE ,parrà).
Let's hear some of the best recorded Manricos (with a complete recording of the opera available):
In the 1930s, there are two great tenors recording the role,
Francesco Merli
and
Aureliano Pertile
, both well into their forties.
Merli's voice is really fantastic, with a beautiful, manly timbre. A true spinto voice, but able to manage all the nuances of the role.
Merli – Ah, si ben mio
Pertile, with a less complete instrument, offers however a true lesson of how to sing Verdi, with a superb phrasing, and having always the right voice's inflection to portrait the warrior, and the lover.
Pertile – Trovatore
Björling
voice was pure silver singing Manrico. His lyric instrument was always at his very limit here, but what a beautiful limit this was!.
Björling – Trovatore
Lauri-Volpi
was not one to get any problem with the high notes, and he sounds heroic enough. An instrumental splendid singing, but a questionable lover:
Lauri-Volpi, Pira
Mario del Monaco
sounds more to Attila the Hun, than to a humble warrior in love, involved in a small civil war in 15th century Aragon. Leonora is understandably intimidated by this display of emotion, that amounts almost to an order from a Prussian Sergeant Major:
Del Monaco – Trovatore
Franco Corelli
is not Attila, but he is not Manrico, either. Perhaps Julio Cesar conquering Gaul and, incidentally, wooing Leonora:
Corelli – Trovatore
Arguably the best Manrico ever,
Carlo Bergonzi
is able to give us all the different sides of the young warrior, as portrayed by Verdi in the score:
Bergonzi – Trovatore
In American tenor
Richard Tucker
we can find middle ground between the Italian stalwarts Del Monaco/Corelli and Bergonzi. A nice rendition:
Tucker – Trovatore
The young
Plácido Domingo
was a very good Manrico. His timbre and the ability to manage well the top notes, coupled with his acting skills, make him exciting warrior to hear, and to watch:
Domingo – Trovatore
With that fantastic voice of his,
Luciano Pavarotti
never was the Manrico he could have been. And not because he was too lyrical for the role, rather he was missing the necessary ductility.
Pavarotti – Trovatore
--------------
Il Trovatore: Ferrando
Posted on
January 8, 2012
Ferrando is not a major role, like the other four. We don't need here really the best bass in the world. But we can really appreciate a good rendition of the beautiful first scene, introducing the action and setting the mood of the performance.
Some examples:
Nicola Zaccaria
Agostino Ferrin
José van Dam
Ildebrando D'Arcangelo
-------------------
Il Trovatore: Ten sighs to alleviate the prisoner
Posted on
January 10, 2012
One of the most beautiful arias of the opera is Leonora's 'D'amor sull'ali rosee'. This page had been sung by many of the best sopranos in recorded history. Let's hear ten outstanding performances:
1.- A wonderful Leyla Gencer in 1957
http://www.youtube.com/watch?v=6Dg2c...layer_embedded
2.- Zinka Milanov, in 1937. She was not the Queen of Bel Canto, but her voice was pure gold
http://www.youtube.com/watch?feature...&v=X_ehxIr6Nqo
3.- Sondra Radvanovsky, in 2003. Great rendition, a little bit too slow.
http://www.youtube.com/watch?feature...&v=4eNvAFXz7WY
4.- Leontyne Price, in 1961. A very good Leonora, but far from the greatest Leonora, some strained top notes
http://www.youtube.com/watch?feature...&v=wp65VKrjNgU
5.- Maria Callas, simply the best Leonora on record. Here is a performance from 1953.
http://www.youtube.com/watch?feature...&v=evRTJr78B-A
6.- Renata Scotto, in 1976. The end of the aria is a little so-and-so
http://www.youtube.com/watch?v=aMOWg...layer_embedded
7.- Joan Sutherland, in 1976. This is a pure Belcanto Leonora.
http://www.youtube.com/watch?feature...&v=6w_FufEU2no
8.- Montserrat Caballé, very beautiful singing, not the most dramatic of vocal portraits. Year 1967
http://www.youtube.com/watch?feature...&v=MNljwTWVJCE
9.- Antonietta Stella, great class, a truly Verdian soprano, singing in 1966.
http://www.youtube.com/watch?v=Ir22H...layer_embedded
10.- Renata Tebaldi, in 1956. Leonora was not her ideal role… but she is Renata Tebaldi.
http://www.youtube.com/watch?v=pXFbM...layer_embedded
---------------