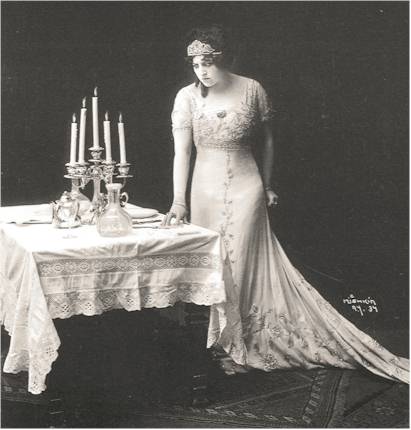 Claudia Muzio as Tosca
Author: Schigolch - Exclusive Opera Lively content, copyright Schigolch at Opera Lively
Claudia Muzio, "La Unica", "La Divina", was a fascinating artist. During her 25 years' career she got devoted admirers in every theater she was singing, and after more than 7 decades after her death, her voice, her art, cross this time with ease, and she is here with us, just like she will be prepared to sing a Traviata tomorrow.
As a singer, she had some important shortcomings, that only got worse with the passing of time. Also, some of her recordings are not in good sound quality. We will review them later in some chapters of the article.
However, with Claudia Muzio those problems, instead of distracting or annoying, or orcing us to consider them with a cold mind, are so craftily used as an expressive resource by the artist, that we are prepared to condone them completely.
Because, when we are listening to Claudia Muzio in
Traviata
, or in
Tosca
, or in
Andrea Chenier
,... is not just a soprano singing a role. Magically, Muzio make us forget there is a singer at all. Suddenly, we are before Violetta Valery, Floria Tosca, Maddalena de Coigny,...
Giacomo Lauri-Volpi, a colleague, friend and admirer, wrote:
Claudia's voice was limited, but with unsuspected resonances, because in each note there was a vibrant feeling. After listening to her singing, you realized that her sweetness will remain in you forever.
We wil close this chapter with Muzio singing in 1935, one year before her death, "Ombra di nube", a song composed especially for the soprano by his friend, the priest Licinio Refice.
Claudia Muzio in the 1930s
Her life
Muzio was the daughter of a choir singer, Giovanna Gavirati, and a stage director, Carlo Muzio.
She was born in 1889, in the beautiful town of Pavia. From the beginning, she travelled with her fathers, and her first years were lived in an operistic environment. Hers was a precocious talent, and were she was barely ten years old, her father was convinced Claudia will be a great Opera singer.
At sixteen she went to Turin, and took singing classes from the
mezzo
Annetta Casaloni. Later, she got also some training in Milan, with the soprano Callery-Viviani, a teacher hold in high-regard by her colleagues.
At twenty-first, she made her singing debut as Manon, in Massenet's opera. Then she sung Violetta, Manon Lescaut, Gilda, Leonora,... Her first role at La Scala, in 1913, was Verdi's Desdemona. One year later, she conquered Paris and London, and sung in the MET for the first time in 1916, a
Tosca
with Enrico Caruso. While in New York, she was one of the top sopranos, and took part in the world premiere of
Il Trittico
.
During her best years, she also sung in Buenos Aires, Chicago, San Francisco, Roma... In the Eternal City she premiered, in 1934,
Cecilia
, an opera written by her great friend, the composer Licinio Refice.
It will be her Swan song. Health issues and an unhappy marriage ruined her last years. Her heart problems prevented her for singing a complete opera, and she was barely able to record her last work with Columbia. Alone, and in serious financial troubles, she died in Rome, in 1936.
This is Claudia Muzio's repertoire:
| | | |
| --- | --- | --- |
| Opera | Role | Composer |
| Aida | Aida | Verdi |
| Andrea Chenier | Maddalena | Giordano |
| Carmen | Micaela | Bizet |
| Cavalleria Rusticana | Santuzza | Mascagni |
| Cecilia | Cecilia | Refice |
| Der Rosenkavalier | Marschallin | Strauss |
| Eugene Onegin | Tatiana | Tchaikovsky |
| Falstaff | Alice | Verdi |
| Faust | Marguerite | Gounod |
| Francesca da Rimini | Francesca | Zandonai |
| I Gioielli della Madonna | Maliella | Wolf-Ferrari |
| I promessi Sposi | Lucia | Ponchielli |
| Il Profeta | Berta | Meyerbeer |
| Il segreto di Susanna | Susanna | Wolf-Ferrari |
| Il Tabarro | Giorgietta | Puccini |
| Il Trovatore | Leonora | Verdi |
| Isabeau | Isabeau | Mascagni |
| La Baronesa di Carini | Laura | Mulé |
| La Bohème | Musetta | Puccini |
| La Bohème | Mimi | Puccini |
| La Cena delle Beffe | Ginevra | Giordiano |
| La Fiamma | Silvana | Respighi |
| La Forza del Destino | Leonora | Verdi |
| La Traviata | Violetta | Verdi |
| La Walkiria | Siglinda | Wagner |
| La Wally | Wally | Catalani |
| L'abisso | Mariela | Smareglia |
| L'amore dei tre Re | Fiora | Montemezzi |
| Lohengrin | Elsa | Wagner |
| Loreley | Loreley | Catalani |
| Madama Butterfly | Butterfly | Puccini |
| Madame Sans Gêne | Cathérine | Giordano |
| Manon | Manon | Massenet |
| Manon Lescaut | Manon Lescaut | Puccini |
| Mefistofele | Margarita | Boito |
| Melenis | Flavia | Zandonai |
| Monna Vanna | Vanna | Février |
| Nerone | Asteria | Boito |
| Norma | Norma | Bellini |
| Ollantay | Cussi-Coillur | Gaito |
| Otello | Desdemona | Verdi |
| Pagliacci | Nedda | Leoncavallo |
| Rigoletto | Gilda | Verdi |
| Tosca | Tosca | Puccini |
| Turandot | Turandot | Puccini |
Her Art
Muzio's voice, melancholic, of a great beauty, was also of average size, with some problems in the top notes. Those inconvenients were managed due to an exquisite singing technique, rooted in bel canto, but applied to a Verdi and verismo repertoire.
She was a master of singing
piano
, and used her
vibrato
to produce some incredible and dramatic moments.
Widely saluted as the best actress-singing of her times, she was called "the Duse of the Opera House". She painstakingly worked in her "physique du role", to get it as close as possible to the role she was going to sing. But her best quality was how she was able to use her voice to recreate any emotion, any feeling.
Discography
There is only a live recording of Claudia Muzio, during the first act of
Tosca
, in a San Francisco's performance, in 1932, with a very poor sound.
There are, however, many arias and songs recorded in three different periods:
Pathé recordings
: 1917-1918
Edison recordings
: 1920-1925
Columbia recordings
: 1934-1935
There is an hiatus of almost ten years, without any recordings at all.
Let's hear a song by Francesco Paolo Tosti,
"Mal d'amore"
, recorded in 1923: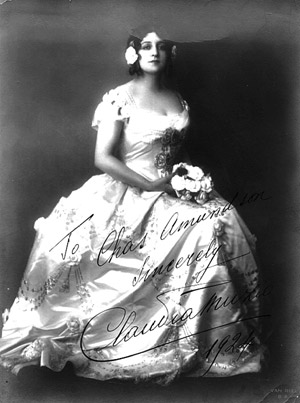 Claudia Muzio as
Violetta
Claudia Muzio
sung for the fist time in a theater January, 15th, 1910 at Teatro Petrarca in Arezzo. It was a performance of
Manon Lescaut
, replacing a sick soprano.
Her first contract was for a Gilda, in Messina, but the sickness of that singer was just the beginning of a very brilliant career for Muzio.
The Messina's Gilda was with a splendid cast, including Tito Schipa and Agostino Oliva. However, the role was not the right one for her voice, and it was not one that she will sing many times more.
However, due also to an indisposition of Clotilde Rubini, she sung for the first time one of her most cherished roles: July, 7th, 1910 Muzio was singing Violetta Valéry, conducted by maestro Sigismondo and with tenor Liugi Cucci, and baritone Agostino Oliva.
Muzio's Violetta, arguably the greatest of all times, was unforgettable. Let's read some examples:
Originally Posted by
La Nación, Buenos Aires newspaper, in 1920
Originally Posted by
Frida Leider in 1959
Originally Posted by
Eva Turner in 1967
Originally Posted by
Herman Devries in 'Evening America'
Originally Posted by
Rosa Ponselle in 1978
We can listen to three samples of Muzio's Violetta:
This "Amami, Alfredo", recorded in 1911 with tenor Gaetano Tommasini, in Milan:
Amami Alfredo-Muzio-1911
"Addio del Passato", from 1918, recorded in New York.
Addio del Passato-Muzio-1918
Both pieces are beautifully sung, in an evanescent mood, words seems to be floating in air. However...
However, they can't compare to this incredible "Addio del Passato", recorded in Milan, the 6th of June of 1935.
This is one of the most moving documents in the history of recording. We have never listened to such a desolate, sincere Violetta. With so deep and sober pathos. The illness of Muzio (she will die from a heart failure less than one year after this recording), that was affecting her
fiato
, and also produced a
vibrato
difficult to control, is used in an almost supernatural manner by the artist, to melt those problems with the decadence of Violetta herself, while both singer and character sink in the abyss of helplessness.
Claudia Muzio was perfectly aware that she, like Violetta, was going to die soon. Both women, facing the same predicament, are only one, during some magic minutes.
Claudia Muzio as
Tosca
1911. February, the 27th. Claudia Muzio sings
Tosca
for the first time, with Pagani and Pastorelli, at Teatro Comunale, in Catanzaro. Floria Tosca will be one of her best creations.
Three years later, in 1914, and just a few months before a terrible tragedy will befall Europe, Muzio is singing Tosca at the Covent Garden, with Caruso and Scotti. She received great reviews:
Originally Posted by
The Times
Originally Posted by
Musical Times
It's almost inexplicable that, after such reviews and the enthusiastic answer of the audience, Muzio will never again come back to England.
Then, in 1916 she is singing, again with Caruso and Scotti,
Tosca
at the MET. It was the first time an Italian singer was presenting the role in New York. Until then, sopranos like Eames, Farrar or Destinn were the singers of choice. The reviews praised also Muzio, though they were not as raptorous as in London.
Originally Posted by
The New York Times
Originally Posted by
The New York Sun
Claudia Muzio was adored in Buenos Aires. Her fist role there was no other than Floria Tosca. The cast included Gigli and the baritone Viglione-Borghese. After those performances, she was known in Argentina as "la Divina Claudia". She received, of course, glowing reviews:
Originally Posted by
La Prensa
Originally Posted by
La Razón
With a similar reception in Chicago, Montevideo, México, Milan, Rome... she was indeed on top of the operatic world. In 1932 she inaugurated a new buidling for the San Francisco Opera, singing
Tosca
with Borgioli and Gandolfi. The first act of the performance was broadcasted and we can here below Muzio's intervention:
We can also listen to a couple of versions of "Vissi d'arte". The first one, acoustic, is a little accelerated:
Vissi d'arte-1919-Muzio
The second one, from 1935, is one of those unfading jewels of Muzio's art. Her piercing phrasing, and the gried transmited by her wonderful voice, that it seems on the verge of breaking, and break ourselves in the process, with such pure emotion.
Claudia Muzio as
Norma
In 1927, Claudia Muzio sung
Norma
at the Teatro Colón. It was one of the last roles she incorporated into her repertoire, and she did not sing it often, but she was very proud of being able to overcome the great challenge Norma was for her.
Muzio's vocality was very far of the ideal one for the role. Her instrument was that of a lyric-spinto soprano, and her voice was of small to medium size. She was terribly at her very limits as a singer. However, she was so good, and with an incredible intuition, that she was able to get a "succès d'estime", singing the Gaul priestess.
In this Buenos Aires cast, were also Stignani, Lauri-Volpi and Tancredi Pasero. Some reviews:
Originally Posted by
La Prensa
Originally Posted by
La Nación
After Buenos Aires, she also sung Norma in Rome and Florence.
We can hear Muzio's Casta Diva, recorded in 1935, in a competent version:
We can compare with some of her brilliant contemporaries:
Rosa Ponselle:
Rosa Raisa
Giannina Arangi-Lombardi:
Apart from Norma, Muzio was planning to sing in 1936, during a small and transitory improvement of her health, the role of Amina. Regrettably, she was no longer able to do that, but she recorded this "Ah, non credea mirarti", for her Columbia recordings:
Back in 1922, the young Muzio also recorded this very beautiful version of an aria from
Bianca e Fernando
,
Sorgi o padre
:
Sorgi o padre-Claudia Muzio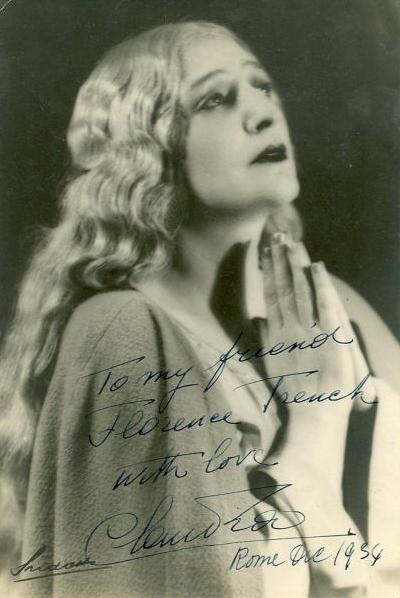 Claudia Muzio as
Cecilia
In 1934, the 15th of February, Claudia Muzio premiered in Rome the opera
Cecilia
, by Italian composer Licinio Refice. Some months later, she started working in Milan for the wonderful Columbia recording, starting precisely by an aria from
Cecilia
. This is what Rodolfo Celletti said:
Originally Posted by
Rodolfo Celletti
She also sung
Cecilia
in Buenos Aires, receiving passionate praise:
Originally Posted by
La Nación
The ninth performance of the opera in Buenos Aires, the 21st of October, 1934, will be the last time Muzio will sing in her favourite theater. ( Not in the city of Buenos Aires, where she later offered an art song recital at Teatro San Martín).
The role of Cecilia was not written for Muzio (Refice had in mind the soprano Maria Viscardi while composing the opera), but she just took possesion of it, and offered a memorable interpretation. She also made a very good friend of the priest Refice, who just before Muzio's death, wrote for her a beautiful motet for her birthday:
"Custoditela, o Signore, come la pupilla dei vostri occhi. Sotto l'ombra delle vostre ali proteggetela
"
He was very worried by the health of the great singer.
Cecilia
is a nice opera, that was never lucky enough to be part of the repertoire. The plot is quite simple, the life of Saint Cecilia from her marriage to her martyrdom.
Claudia Muzio sings
Cecilia
:
Claudia Muzio in the 1920s
Desdemona was one of the first roles for Clauda Muzio. She sung it for the first time at Teatro Massimo, in Palermo, in March of 1912. Later, she also presented the role in Naples and Milan, at the Dal Verme.
She was so succesful in Milan, that La Scala offered also to the young soprano an opportunity, and she sung in December 1913 an
Otello
there, with thenor Icilio Calleja and baritone Enrico Nani, under the baton of Tullio Serafin.
It was well received, with 'Il Corriere della Sera' calling Muzio "a gift for the Italian operatic world".
But, strangely, after those first succeses, Muzio only sung Desdemona a handful of times. The most important, in Chicago, where she was saluted as the best actress in the business.
In 1917, Muzio recorded for Pathé the "Ave Maria". It's a good version, though penalized by a poor sound. This is not at the 'Divina Claudia' top performance level:
Muzio - Ave Maria
However, in her legendary Columbia series, she recorded the two duets, with tenor Francesco Merli. Here we can find the true Muzio, with some wonderful
pianissimi
, showing us the ineffable sweetness of Desdemona, unforgettably singing "Te ne rammenti?" or "Amen, risponda!", that are among her very best recordings:
Già nella notte densa
Dio ti giocondi
In the third Act duet, she starts with a hair-raising "Dio ti giocondi, o sposo", that transforms then in searing words, full of anguish and pain before her husband's brutality. The top note on "furia" is not perfect, though:
Eravate sublime
per cuore e accento,
il fuoco e il ghiaccio fusi
quando Qualcuno disse basta
e fu obbedito.
Ovviamente
non fu affar vostro la disubbidienza
ma questo non conforta, anzi infittisce
il mistero: che sia pronto a dissolversi,
cio' che importa, ma tardo e incancellabile
l'essere per cui nascere fu un refuso.

A Claudia Muzio, by Eugenio Montale (1978)
Claudia Muzio was a very discreet woman offstage.
Originally Posted by
Claudia Muzio
After the death of her father, in 1917, Muzio's relationship with her mother, a gloomy and possessive woman, was very close, and this also contributed to estrange her from a wider circle of acquaintances.
However, she did get some friends. People like her secretary May Higgins (that published her interesting travels with the singer across Italy), or some lovers, like the young Aristotle Onassis in Buenos Aires.
But Muzio's great love was always:
Originally Posted by
Claudia Muzio
Her marriage with an Italian young man, Renato Liberati, by seventeen years the junior partner, was a very unhappy affair. Financially, she was ruined after the crack of the '29, and was living in a sea of debts afterwards.
Muzio's health was also fragile. Kidney issues and a heart sickness were affecting her, but she was still able to perform and even record the hair-raising Columbia series that are today the core of her legacy.
About her death, the 24th of May, 1936, at Hotel Majestic in Rome, it was a messy affair. It was rumored she has committed suicide, but the coroner declared death by heart failure. To her memory, a statue was erected in her tomb, with the following inscription:
"La sua voce divina le genti d'ogni remoto paese amalió. Messagera di grazia, di forza, di luce, d'arte. Gli amici memori"
.
Let's hear a couple of songs in the unforgettable voice of Claudia Muzio:
Claudia Muzio as Mimi
The debut of Claudia Muzio in
La Bohème
was not as Mimi, but as Musetta. Her first Mimi was already in 1914, singing at Covent Garden, with Caruso.
I was one of her most frequent roles: New York, Chicago, Buenos Aires, Roma... As usual, it was in Argentina where she received the greatest praise:
Originally Posted by
La Prensa
Muzio recorded several times "Mi chiamano Mimi". The first one in 1911, even before singing the role on stage, for Gramophone. In a speed-up tempo, it was difficult to predict the big success waiting for Muzio, just listening to this aria, that is transposed down a semitone (also in other recording, even by a full tone).
Mi Chiamano Mimí-1911
In 1917, we get a Pathé recording issued in New York, with a more convincing rendition, even if we can't not get a full portrait of the sick and passionate girl:
Mi Chiamano Mimí-1917
In this version from 1921, for Edison, (the youtube wrongly identifies this as the 1911 version), the final words "Sono la sua vicina..." are not included. Muzio is trying to use an innocent, naive tone, almost childish, but she is not fully succesful:
The Columbia recording presents a great phrasing, full of poetry, very beautiful, a foreboding of the doom awaiting the seamstress (and the singer)... but it's also a little bit too mature Mimi, is not one of the best Mimis on record:
Mi Chiamano Mimí-1935
But, as compensation, this "Donde lieta usci", also from 1935, is a full delight, and we can understand how Muzio was able to identify with Mimi, and can literally take away the audience's breath:
Donde lieta uscí-1935
There is also a recording of Muzio, singing Musetta, from 1911:
Vals de Musetta
Portrait of Claudia Muzio
In 1916, Claudia Muzio was singing for the first time in Genoa, at Teatro Carlo Felice, one of her preferred roles: Loreley, from the opera with the same title by Alfredo Catalani.
Loreley
was a succes, since its premiere in 1890, until well into the 1930s. Claudia Muzio just loved both the opera and her role, that was also a good one for her to showcase her considerable acting talents. It was she who sang in the MET premiere back in 1922 (with Gigli, Danise and Mardones), as well as in Buenos Aires, in 1919:
Originally Posted by
La Prensa
It was in 1934, also in Buenos Aires, when Muzio sang Loreley for the last time.
The Italian soprano recorded in 1922, for Edison, the aria "Dove son?". Here the protagonist realizes she has been tricked by a womanizer. It requires quite a lot from the singer at the high end of her tessitura, but a young Muzio is able to meet the score's demands with ease, and as usual is delivering a wonderful phrasing. (she even sings a little coloratura in 'Che bramo')
Muzio-Loreley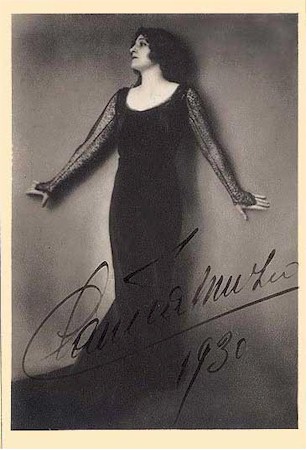 Claudia Muzio as Leonora
Naturally enough, Muzio was offered two of the greatest Verdi's roles for soprano: Leonora (Trovatore) and Aida. She sang both of them for the first time in New York. Leonora in 1916 (with Martinelli and Amato), and Aida in 1917 (also with the same singers, though the role of Radames was later assumed by Caruso).
Muzio's Aida was never one of her signature roles. She received some praise about her "wonderful acting", but she was too lyrical, wth the tender lover taking excessive precedence over the passionate and violent Nubian slave.
This "O Patria Mia" was recorded for Pathé in 1918. There is some spectacular phrasing, but the top notes are too strained, and the full performance falls a little bit flat. Muzio will never again record Aida:
However, her Leonora was one for the ages. She was justly applauded by her sheer musicality and how she was able to tinge the role with sobriety and sweetness at the same time. Her friend and colleague, Lauri-Volpi said "I was lucky to hear Claudia's Leonora. She was really exquisite. Her voice transmited the deepest feelings, I was moved to tears, while I was watching her death in scene, waiting for Manricos's doom".
This "Tacea la notte placida", from 1935, is excellent:
And this "D'amor sull'ali rosee" recorded for Edison in 1920, is a masterclass on legato, such a beautiful singing... though the top notes are again not the best in this performance:
Claudia Muzio sang in the MET from 1917 to 1922 (she came back briefly in 1934). She was hired to replace the loss of Lucrecia Bori and Emmy Destinn. She was succesful, but neither the management of the theater, nor the critics, ever considered hear a true star. They were more appreciative of Geraldine Farrar's Violetta, Maria Jeritza's Tosca or Rosa Ponselle's Leonora.
Arguably her best performance ever at the MET was the New York premiere of
Andrea Chénier
, in 1921, with Beniamino Gigli as Chénier. The role of Maddalena fitted Muzio like a glove, and it was very dear to the Italian soprano, that got some incendiary praise singing it in Chicago or Buenos Aires. According to the critic John B. Richards, "with just a subtle inflection she was able to irradiate ardent passion. With those muffled autumnal sounds she exuded a melancholic nostalgia. Hers was the most poetic voice I've ever heard".
While Rosa Ponselle declared in 1977: "Muzio had it all, to me she was the greatest of all Maddalenas".
Muzio recorded 'La mamma morta' in a lovely acoustic version for Edison, in 1920:
But, as usual, her best rendition was included in the Columbia record¡ngs of 1935, with an awesomely beautiful singing, lyrical, full of pathos, that very moving pianissimo in 'Porto sventura!', and the warm and splendid 'Fu in quel dolore che a me venne l'amore', a passionate declaration of love:
This is Margarita's nenia from Boito's
Mefistofele
, "L'altra notte in fondo al mare". Claudia Muzio was very succesful in this opera, singing the parts of Margarita and Helena. The above take is from the Columbia recordings, in 1935.
Originally Posted by
La Prensa
.
We can hear also how Muzio sang the role in 1917:
The following aria is from Verdi's
La Forza del destino
.
Perhaps you will remember that this opera is famed to be a jinx in many theaters. In this case, during some performaces in 1921, at Teatro Colón, Muzio's mother came early to throw holy water and keep back any curse. However, the hall was dark, and the good woman stumbled and fell into the orchestra's pit, and was taken to the hospital with a few broken bones.
In this recording, we are missing the end, with the famous 'Maledizione'. Muzio decided not to record it, because she was too aware of the limitations she was facing in the 1930s with her top notes. The performance is just masterful, nonetheless.
Claudia Muzio only performed
La Wally
on stage twice, both in 1927 at Teatro Colón, in Buenos Aires, with Lauri-Volpi and Franci.
Originally Posted by
La Prensa
We can watch here the famous romanza "Ebben?, ne andrò lontana" in this delicious version for Edison, recorded in 1920:
The last years of Claudia Muzio were full of health and financial problems. Due to the 1929 crack, she lost all her savings and, on top of that, her salary was substantially lowered.
Muzio was earning some $2,800 per performance at the Chicago Opera before the crisis. We can find below some figures for the 1931-32 season:
Tito Schipa: $2,000
Rosa Raisa: $1,900
Claudia Muzio: $1,700
Frida Leider: $1,000
Lotte Lehmann: $1,000
The singer was not really able to adjust, and she was soon drowned in a sea of debts.
Some Muzio's songs: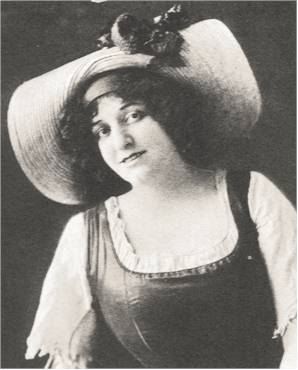 Claudia Muzio as Nedda
Verismo was a strong repertory for Muzio.
Of the two most famous verismo operas, she sang
Pagliacci
for the first time in Milan, the year 1912, with Aureliano Pertile. He repeated in 1915, this time with Enrico Caruso, that will never sing again Opera in his native Italy.
Muzio recorded the "Balatella" twice, in 1917 for Pathé and in 1921, for Edison. The second version is clearly the best, sung with the proper agility, with a fresh voice, transmitting a convincing portrait of the young Nedda: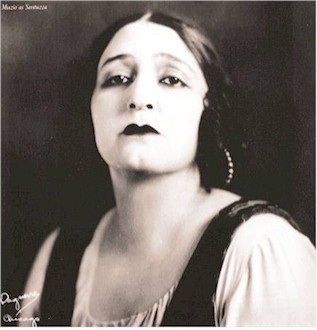 Claudia Muzio as Santuzza
Her debut in
Cavalleria Rusticana
was the year 1918, in Chicago, a great success. She recorded Santuzza's aria twice, the last one for the famous Columbia series. Of this performance, the Italian critic Rodolfo Celletti wrote:
"Her beautiful phrasing, her winged emission, the lovely timbre... the first part of the aria sung with an understated sadness... Her regulation in "L'amai, l'amai"... the sweetness of "Me l'a rapito"... Great talent, simply inimitable"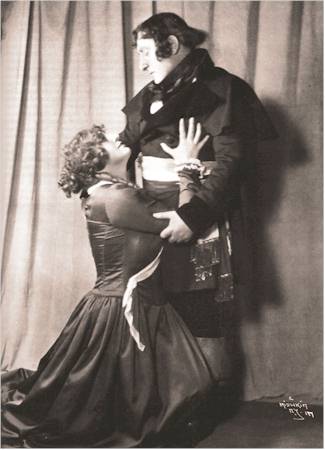 Claudia Muzio in Andrea Chénier
Other verismo and contemporary roles
:
She sang back in 1913 Il Segreto di Susanna, by Wolf-Ferrari. Also, Giordano's Madame Sans Gêne in 1916, in Brescia.
Muzio-Che me faccio del vostro castello 1922, Madama Sans Gêne
She was preparing in 1931 her debut as Adriana Lecouvreur for the Rome Opera, but the management of the theater decided to replace her with the Romanian soprano Florica Cristoforeanu. This was a pity, as her talent was pretty well adapted to the role of Adriana, as we can hear in this recording:
Muzio-Poveri Fiori 1935, Adriana Lecouvreur
We have also this very good rendition from Mascagni's
L'amico Fritz
:
Muzio-Son pochi fiori 1923, L'amico Fritz
But arguably her best legacy on this type of roles is the below heart-rending performance of Cilea's
L'Arlesiana
:
Muzio-Esser madre è un inferno 1935, L'Arlesiana
We have already reviewed the main Verdi roles performed by Muzio. She also sang on stage
Falstaff
's Alice, and Rigoletto's
Gilda
, but only occasionally and there is no recording available.
On the other hand, she did record between 1917 and 1922 some arias for roles she never performed live. Those are arias from
I Lombardi alla Prima Crociata
,
I Vespri Siciliani
,
Un ballo in maschera
and
Ernani
.
Some examples:
Muzio-O madre, dal cielo 1922, I Lombardi
Muzio-Mercè, dilette amiche 1920, I Vespri Siciliani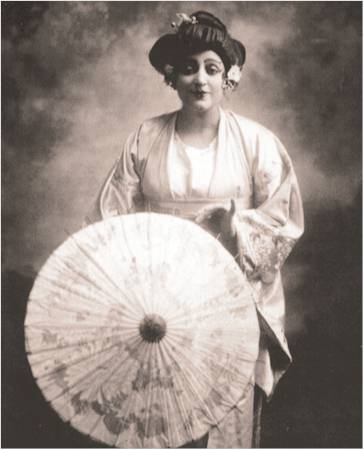 Claudia Muzio as Cio-Cio-San
Puccini was an important part of Claudia Muzio's career. On top of Tosca, the most important role for the Italian soprano, and Mimi, she sang also Butterfly, but in this case, only in a few occasions. Among other things, Muzio's height, 5'9'' barefooted, made her an unlikely Japanese girl. Singing with the small Spanish tenor Hipólito Lázaro at the MET, she was said to be trying to hid her body into her kimono.
Muzio-Ancora un paso
Manon Lescaut was a more important role, and she was praised, as usual, in Buenos Aires:
Originally Posted by
La Prensa
She even tried Turandot (the Princess's role, not Liu), in 1927, singing with Lauri-Volpi, Roseta Pampanini and Tancredi Pasero.
She was one of the singers performing in the world premiere of
Il Trittico
, at the MET in 1918, in the opera
Il Tabarro
, in the role of Giorgietta. This is a picture of that performance, with Giulio Crimi and Luigi Montensanto:
Claudia Muzio in
Il Tabarro
There is no recording of Muzio singing Giorgietta, but we have one with the far more popular 'O mio babbino caro':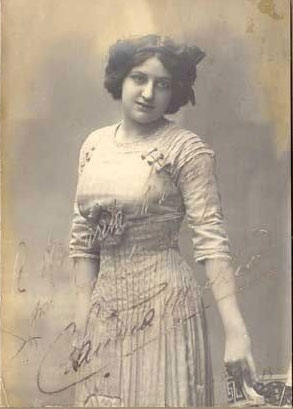 Of course, Claudia Muzio was performing mainly Italian opera in her career. However, always singing in Italian, she also approached Wagnerian roles like Elsa or Sieglinde, Strauss's Marshallin or even Onegin's Tatiana:
The only other language she performed on stage was French. Perhaps her best role was Massenet's Manon, we can hear an early recording:
And she was also a solid, but unexciting, Micaela in
Carmen
:
Time to say goodbye to Claudia Muzio, the wonderful singer and even more wonderful
tragédienne
, one of the greatest sopranos of all time, with, as her friend Giacomo Lauri-Volpi said, "a unique voice made of tears and sighs and restrained interior fire."