Luiz Gazzola has interviewed Martin Smolka, the acclaimed contemporary composer, whose opera
Nagano
was very well received by critics. The interview was initially scheduled to happen in-person in Prague, but Mr. Smolka had to be absent from the city during Almaviva's visit, so we did it over Skype the week before, on June 23, 2012. Click on Read More then scroll down for the full interview. [Opera Lively interview # 33]
Mr. Smolka is the leading representative of his generation of Czech composers, widely recognized at home and abroad.
From his student years he followed his own temperamental and aesthetic tendencies in a self-conscious way, seeking to define his own musical originality. He then systematically based his musical language on his introspective insights. It is a language dominated by slow tempos, "detuned" consonances, a dreamy, melancholic mood, and playfulness in the use and treatment of unusual sounds.
In 1983 he co-founded Agon, a group specializing in contemporary unconventional music in which he worked as artistic director and pianist until 1998. In the course of Agon projects he has also carried out research (quarter-tone music by the pupils of Alois Hába, the 1960s in Prague), and the realization of graphic scores and conceptual music (the works by John Cage, Cornelius Cardew, Daniel Goode and Milan Grygar).
He co-authored the book
Graphic Scores and Concepts
.
Composition has always been Smolka's main occupation, but he has also worked as a teacher and has been active as an improviser for theatre and occasionally published articles on music. Since 2000 his new works have been published by Breitkopf, Leipzig.
Mr. Smolka belongs to the Microtonal movement. Here is an explanation he authored himself:
-----------------------
My use of microintervals is not based on any theory. My reasons are practical: musicality, expression, experience. Almost all the microintervals that I have used I had heard before, either in some "natural" music, such as ethnic music, or in the environment. I have worked with them in instrumental music and occasionally vocal music, using my own aural experience (no electronic tuning devices), respecting the natural limits of performers and their instruments, and sometimes even taking advantage of those limits. While composing I have relied upon my voice, the guitar (bending the strings as well as retuning them), and occasionally recorders (using incomplete covering of the holes). My idea has been to enrich the music with natural elements (just as a tree never grows geometrically straight), but not to make it more "sophisticated."
An outline of my different approaches, sources and reasons for microtonality:

1
Putting minor and major triads "out of tune," in chords as well as in melodies
Source
blues, gospel, jazz, authentic European folk music, various kinds of ethnic music
Reason
• expression of pain, bitterness, longing, tears etc.
• tension, reminiscent of the leading tones of classical harmony
Pieces
Remix, Redream, Reflight
(2000) for orchestra;
Walden, the Distiller of Celestial Dews
(2000) for mixed choir;
Lieder ohne Worte und Passacaglia
(1999) for 5 instruments;
Mushroom and Heaven
(2000) for 2 string quartets and a singing (sopr.) violinist;
Missa
(2002) for 4 singers and string quartet
2
Imitations of environmental sounds, such as boat- and railway-horns (brass out-of-tune triads), "chanting" wheels and brakes of a suburban shunting yard (the highest harmonics of strings plus sounds of crotali and finger-cymbals played with a bow are forming a structure of tones and melodic fragments), etc.
Reason
• Musical quality of environmental sounds
• Ability to recall pictures or memories
Pieces
L'orch pour l'orch
(1990) for orchestra;
Rain, a Window, Roofs, Chimneys, Pigeons and so on… and Railway-Bridges, too
(1992) for large ensemble;
Rent a Ricercar
(1993) for ensemble
3
Fragmentary imitations of various kinds of music such as jazz, early rock 'n roll or Balkan folk music
Reason
• To take and transpose the raw vitality of recalled genres, that kind of energy which is usually missing in music played from scores
• Ability to recall pictures or memories
Pieces
Euforium
(1996) for ensemble;
Lieder ohne Worte
(1999) for 5 instruments
4
Distortion of musical objects such as chords or ostinati, often attributes of some musical style (brass band, rock guitar and others)
Reason
the very specific expression of crazy wildness and/or bitter grotesqueness
Pieces
Three Pieces for Retuned Orchestra
(1996);
Euforium
(1996) for ensemble;
Three Pastoral Motifs
(1993) for tape;
Rain, a Window…
(1992) for large ensemble
5
Soft melodic microsteps, slight untunings in pp
Reason
Intimate emotional potency, such as soothing (this is my very personal, intuitive feeling)
Pieces
Rubato
(1996) for violin and piano;
Lullaby
(1997) for trombone, guitar and ensemble
6
Generating the interference pulse
Reason
• celestial beauty of certain appearances of the interference pulse
• sound intensity (a certain voice to come out of a silent complex sound)
Pieces
Three Pieces for Retuned Orchestra
(1996), 3rd movement
7
Quarter-tone or 1/6-tone fingerings on wind instruments, mainly woodwinds
Reason
to get non-standard instrumental color (e.g. sound of quarter-tone fingerings of reeds, comparing sound of chromatic tones, are usually as if under pressure or damped)
Pieces
Flying Dog
(1990) for ensemble, version 1
------------------------
Artistic biography
Born in 1959 in Prague, Czechoslovakia (now Czech Republic), Martin Smolka studied composition at the Music Faculty of the Academy of Performing Arts in Prague (J. Pauer, Ct. Kohoutek), but his most significant apprenticeship was for him his private study with Marek Kopelent.
He entered the world of music in the early 1980s when he and Miroslav Pudlák (joined later by Petr Kofroň) founded Agon, an ensemble that in the late 80s and early 90s was the most significant mediator of the world's musical avant-garde in the Czech scene, which at the time was dominated by the officially backed domestic pseudo-modernism. From the very outset of his career as a composer, we can discern Smolka's having been influenced by post-Webernism, Minimalism, American experimental music and the Polish School.
In the early 90s Smolka was interested in bizarre instrumental techniques and sound sources (deeply under-tuned strings, old gramophones, various objects in the role of percussion, etc.). Smolka made use of them with a view to stylising the sounds observed in nature and the city. He refers to some of his compositions dating from this period as "sonic photographs" (e.g. 1990's
L'Orch pour l'Orch
is in part a "portrait" of night sounds at a shunting yard). Smolka selected real sounds in terms of their expressive charge, stylising them to attain a certain emotional sonic result (eloquent is, for instance, the title of one of Smolka's strongest pieces:
Rain, a window, roofs, chimneys, pigeons and so... and railway bridges, too
).
Metaphorically speaking, Smolka's music oscillates around two poles: 1) Cracked, buoyant conviviality, music of a hobbling orchestrion, symptomatic civilisation sounds, a folk or brass band playing, preferably, out off tune; 2) Melancholic memories, aching desire, the nostalgic echo of the sounds of Point 1. Corresponding to this is the usual structuring strategy of Smolka's compositions: they almost invariably form juxtapositions of inwardly homogeneous and sharply contrasting form segments, which through their opposition (slow – fast, joyous – sad, tumultuous – gentle, etc.) actually correspond to the "sonata" categories: the main theme – the secondary theme. Smolka, however, frequently works with jarring, film-like cuts; evolutionism is suppressed, seams admitted, dynamic and textural differences foregrounded, with repetition being the basic principle.
The essentially emotional tone of Smolka's compositions also relates to the application of micro-intervals serving the composer, on the one hand, to evoke real sounds, on the other, to "detune" traditional harmonic and melodic formations – the motivation for this fundamentally subversive seizure of the inherited material is further amplification or re-awakening of its emotional potential (e.g.
Solitudo
for ensemble). In the late 90s Smolka focused his attention on this very "recycling" of elements of traditional music deformed in micro-interval terms and arranged in the collage manner (e.g.
Remix, Redream, Reflight
for orchestra). Moreover, over the past decade or so Smolka has taken a keen interest in vocal music, especially that for chorus (
Poema de balcones
for chorus,
​Psalmus 114
for chorus and orchestra, etc.).
Martin Smolka's music has mainly been performed beyond the Czech Republic, the country in which he lives. Those to have commissioned Smolka compositions include the most renowned European ensembles and festivals.
In Prague, he is above all known owing to his opera
Nagano,
for which he received an Alfréd Radok Award. Since 2003 he has taught composition at the Janáček Academy of Music and Performing Arts in Brno. He occasionally writes film scores.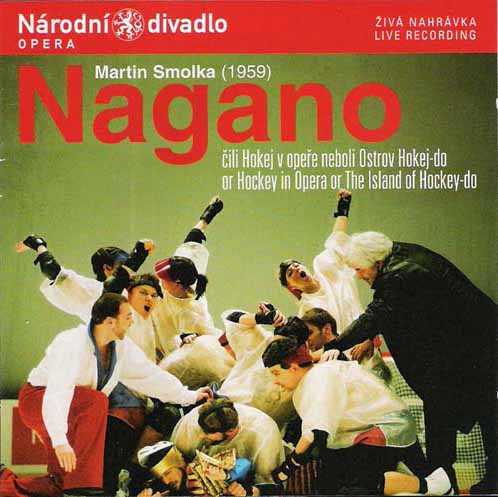 Recognition:


His work won him recognition both at home and abroad. He has written commissioned pieces for prestigious festivals (Warsaw Autumn 1987 and 2000; Donaueschingen 1992 and 2000; Berliner Musik-Biennale 1993 and 1997; Nov-Antiqua Cologne 1996; Wittener Tage fuer Neue Kammermusik 1999; Musica Viva Munich 2000; Velvet Curtain, KrakÛw 2000, etc.) and for outstanding performers (Bang-On-a-Can-All-Stars, NY, 1996; Scharoun Ensemble, Berlin, 2000; ensemble 2e2m, Paris, 2002, and others) and his works have been chosen for performance at other important festivals (ISCM World Music Days, Oslo 1990 and Copenhagen 1996; Hoergaenge, Wienna 1996; Tage Neue Musik Stuttgart 1997; Klang-Aktionen, Munich 1994, 1998 and 2001, etc.). The Agon Ensemble has performed his music in many different venues such as Berliner Festwochen 1992, Concerti sulla musica contemporanea, Assisi, Italy 1992, Budapest Spring Festival 1993, South Bank Center, London 1994, Musique Actuelle Victoriaville, Canada 1996, Vilnius, Lithuania 1997, etc.
Discography:
His music has been recorded for broadcast by various radio stations (Czech Radio, Deutschland Radio Cologne and Berlin, CBS Vancouver, SWF Baden-Baden, RiTV Warsaw and others) and by Czech Television. Much of his chamber music has been recorded on CD by the Agon Ensemble.
CDs:
1
Hudba hudbička
, ensemble AGON, Arta Records, Prague 1991
2
Music for Retuned Instruments
, ensemble recherche, Wittener Tage für neue Kammermusik 1991, WDR Köln 1991
3
Rain, a Window, Roofs, Chimneys, Pigeons and so... and Railway-Bridges, too
, col legno München/SWF Baden-Baden, Donaueschinger Musiktage 1992
4
A v sadech korálů, jež slabě zrůžověly
, Petr Matuszek - bariton, Martin Smolka - piano,
Na prahu světla
, Happy Music, Prague 1996
5
Rent a Ricercar
,
Flying Dog
,
For Woody Allen
,
Nocturne
, AGON Orchestra, audio ego/Society for New Music Prague, 1997
6
Euphorium
,
Rain, a Window, Roofs, Chimneys, Pigeons and so... and Railway-Bridges, too
,
Music for Retuned Instruments
,
Ringing
, AGON Orchestra, audio ego/Society for New Music Prague, 1998
7
Walden, the Distiller of Celestial Dews
, SWR-Vokalensemble Stuttgart, Meinhard Jenne – percussion, Rupert Huber - conductor, Donaueschinger Musiktage 2000
8
Nagano
- the CD of the opera has been recorded and manufactured by the Národní Divlado Praha (National Theater Prague) but not for commercial sale.
His music has appeared in eight other CDs by different artists.
Here you can consult the full list of all 16 CDs with cover pictures:
[
Martin Smolka's Discography
]
--------------
Full list of works, chronologically:
1983
–
Slzy
[Tears] – string trio; 15'
1985
, rev. 1988 –
Hudba hudbička
[Music Sweet Music] – soprano, S-recorder or picc, fl, ob, cl, tr or alt-sx, vl, va, vc, cb; 12'
1987
–
A v sadech korálů, jež slabě zrůžověly
[And In the Orchard of Corals, which turned Vaguely Rose] – mezzosoprano, piano without pianist, electronics; 15'
1988
–
Hudba pro přeladěné nástroje
[Music for Retuned Instruments] – fl(picc), va1(va2), vc(va2), pf(perc) (= 4 or 5 players); 22'
1989, 2010
–
Nokturno
[Nocturne]
- Version 1 (1989) – vl or picc solo + cl, pf, arp, 1 perc, el guit, vc; 24'
- Version 2 (2010) – vc solo + tr, trb, 2 perc, prep pf, el guit; 20-25'
1989
–
Zvonění
[Ringing] – 1 perc solo; 11'
1990
, 1992 –
Netopýr
[The Flying Dog]
- Version 1 (1990) – alt-fl, ob, cl, 1 perc, prep pf, vc, cb; 7'
- Version 2 (1992) – fl(picc), cl, 1 perc, prep pf, vc, cb; 11'
1990
–
L' Orch pour l'orch
– 2 picc, 5 cl, (2 cr ad lib.), 12 tbn (or 6 tbn and 6 amplified vc), 4 perc, 25 vl, 5 cb; 20'
1992
–
Déšť, nějaké okno, střechy, komíny, holubi a tak..., a taky železniční mosty
[Rain, a Window, Roofs, Chimneys, Pigeons and so... and Railway-Bridges, too] – bass-fl(picc), c.i., bass-cl(Es-cl), fg, tr, cr, tbn, tb, 2 perc, 2 pf, el guit, acc, vl, va, vc, cb; 23'
1993
, 1995 –
Rent a Ricercar
- Version 1 (1993) – ob, c.i., tbn, prep pf, 1 perc, va, vc, cb (each player plays also various additional percussion-, toy-, and non-instruments or may have an assistent); 11'
- Version 2 (1995) – ten-sx, tr, tbn, 2 perc, prep pf, el guit, vc, cb (each player plays also various additional percussion-, toy-, and non-instruments); 11'
1993
–
For Woody Allen
– fl(picc,bass-fl), cl(bass-cl), tbn, el guit, perc, cb, tape (each player plays also various additional percussion instruments and non-instruments); 9'
1993
–
Trzy motywy pastoralne
(Three pastoral motifs) – tape (+ designed upright piano as a visual object); 12'33''
1995
–
Rubato
– vl, pf; 10'
1995-6
, 1996 –
Euforium
[Euphorium]
- Version 1 (1995-96) – bar-sx(cl), euphonium(tbn), prep pf, vc; 14'
- Version 2 (1996) – bar-sx(picc-fl, alt-fl), ten-sx(cl), tr, euphonium(tbn), 2 perc, prep pf, prep el guit, prep bass guit, mandolin(vc) (some of instruments amplified); 14'
1996
–
Tři kusy pro přeladěný orchestr
[Three Pieces for Retuned Orchestra] – 6(2picc,alt-fl,bass-fl),3(c.i.),4(2Es-cl,bass-cl,cb-cl),2sx(s-sx,b-sx),2(cfg) - 2,4,2Es-tr,4(2euph),1 - 5 perc, arp, prep pf - 1,1,2,4,2; 20'
1996-97
–
Lullaby
– solo: tbn, chit + 2 cl, 1 perc, old mechanical gramophone, vl, va, vc, cb; 14'
1998
–
Osm kusů pro kytarové kvarteto
[8 Pieces for Guitar Quartet] – 4 chit; 12'
1998
–
Autumn Thoughts
– fl, cl, prep pf, 1 or 2 perc, vl, vc; 10'
1999
–
Lieder ohne Worte und Passacaglia
– ob, fg, cr, va, cb; 16'
1999
–
Nešť
[Nest] – orchestra divided into 3 groups: 5(3picc,1alt-fl),3,c.i.,3(alt-sx),Es-cl,bass-cl,bar-sx,3 - 6,1,euph(or tbn),1 - 1perc, 2arp - 14,12,10,8,6; 19'
2000
–
Blue Note
– 2 perc; 19'
2000
–
Walden, the Distiller of Celestial Dews
– English text H. D. Thoreau – mixed choir (8S, 8A, 8T, 8B), 1 perc; 19'
2000
–
Remix, Redream, Reflight
– orchestra: 4,4,4,4, - 4,2,2,1 - 1 perc - strings; 17'
2000
–
Houby a nebe
[Mushrooms and Heaven] – Czech text P. P. Fiala, M. Smolka – non-opera alto-singer or singing violinist and one or two string quartets; 17'
2000-1
–
3 Morceaux en forme d'Eric Satie
(1. Giraferie 2. Tapferer Blick Richtung Paris 3. Schnecken – Schleudern) – 2 pf (one of them tuned 1/10 tone lower), perc - 11'
2001
–
Geigenlieder
– German texts Ch. Morgenstern, B. Brecht – violinist-narrator, fl(picc,alt-fl), s-sx(cl), tr picc, pf, 1 perc, vc; 17'
2001
, rev. 2003 –
Pozoruji oblaka
[Observing the Clouds] – (youth) orchestra in 3 groups with 3 conductors (2 of them also playing badminton on the stage) - 3(3picc),3,3(Es-cl),0 - 0,3,0,0 - 1 perc, arp, pf - 10,8,8,8,5; 11'
2002
–
Ach, mé milé c moll
[Oh, my Admired C Minor] – alt-fl, Es-cl, perc, pf, vl, va, vc; 12'
2002
–
Missa
– 4 voices solo: high soprano, soprano, countertenor, bariton and string quartet; 18'
2001-3
–
Nagano
, opera in 3 acts – Czech libretto J. Dušek, M. Smolka – soloists, choir, ballett, orchestra; 90'
2003
–
Solitudo
– fl(picc), ob, cl, fg, cr, tr, tb, perc, arp, chit, prep pf, vc; 14'
2003-4
–
Tesknice
[Nostalgia] – chamber orchestra: 2(2picc),2,2,2 - 4,2,1,0 - - 8,6,5,4,3; 12'
2003-4
–
Adelheid
– fl or sax solo; 5'
2004
–
For a Buck
[Za babku] – string quartet; 4'
2004
–
Hats in the Sky
[Klobouky v oblacích] – tr, tbn, 2 perc, prep pf, prep guit, vc; 7'
2004
–
Touha stát se Kafkou
– Czech and German text F. Kafka – 2 (youth) choirs (S, MS, A, T), pf, el guit, drums; 10'
2005
–
Das schlaue Gretchen
, opera for children audience – German libretto K. Angermann (based on fairy tale by Jan Werich
Královna Koloběžka I.
) – actor, 4 singers, chamber orchestra or 13 instruments; 60'
2006
–
Lamento metodico
– acc solo; 12'
2006
–
Słone i smutne
[Salt and Sad] – Polish text T. Różewicz – mixed choir (8S, 8A, 8T, 8B); 17'
2006
–
Semplice
– old and new instruments:
- baroque ensemble: fl(picc), 2 ob, fg, 2 cr, cemb, chitarrone, 7 vl, 2 va, vc, cb
- modern ensemble: fl(picc, bass-fl), ob, cl, perc, prep pf, vl, va, vc; 45' (short version 25')
2002
, rev. 2006 –
Pianissimo
– miniature for 4 tr or 4 sax; 5'
2007
–
Stínohra
[Shadow Play] – miniature for 2 pf; 5'
2006-7
–
Frrr
– fl(picc), ob, fg, sopr-sx(alt-sx), C-tr, tbn, 1 perc, vl, va, vc, cb (each player plays also kazoo and nightingale or finger cymbal); 7'
2007
–
Rush
– alt-fl(picc), c.i., bass-cl(Es-cl), fg, s-tbn or tr, cr, euph or tbn, tb, 2 perc, arp, pf, 2 vl, va, vc, cb; 15'
2007
–
Haiku
– harpsichord with or without tape; 12'
2007
–
Haiku - žalm
[Haiku - Psalm] – English text Psalm 104 - 3 male voices (tenor, baritone, bass), 3 trombones and 2 resonance-pianos (no players); 6'
2007
–
Zátiší s tubami aneb Ticholapka
[Still Life with Tubas or Silence Hiding] - 4(1picc,1alt-fl),0,4(1bass-cl),0 - 6,0,0,2 (soli) - 3 perc,arp,pf - 14,12,10,8,0; 20'
2008
–
Die Seele auf dem Esel
- picc, Es-cl, 1 perc, pf, vl, va, vc; 20' (short version 16')
2008
–
En tractant
- C-tr, tbn, 2 perc, guit, pf, vc (players play also various additional percussion instruments); 15'24''
2008
–
Etudy pro sbor
- Czech text Martin Smolka - non-professional mixed choir; 12'
2008
–
Poema de balcones
- Spanish text F. G. Lorca - 2 mixed choirs; 12'
2009
–
Soutěska
[In the Gorge] - vc solo; 7'
2009
–
Rinzai a vodoměrky
[Rinzai and Water Skaters] - guit, bass-cl and string quartet; 16'
2009
–
Fünf Choretüden
- German text - non-professional mixed choir; 12'
2009
–
Psalmus 114
- Latin text Psalm 114 - mixed choir and orchestra; 25'
2009
–
Hladina, mlha, vlhko, volavka, dálka
[Lake, Mist, Herons, Remoteness] - sax quartet; 11'
2009
–
Nocí dolu, dnem vzhůru
[Downwards, Upwards, Upside Down] - cemb and sax quartet; 3'
2010
–
Der Puppenkavalier
- fl(picc), cl(bcl), fg, tpt, 2 perc, el guit, acc, vl, cb; 64'
2010
–
fff (Fortissimo feroce Fitipaldi)
- bar-sax, perc, pf; 5'
2010
–
In uno monili torquis tui
- Latin text Song of Songs - five singers and string quartet; 12'
2010
–
Aspro core
- Italian text Petrarka - vocal sextet: sopr, 3 ten, bar, bass; 4'
2010
–
Veni sancte spiritus
- Latin text - vocal sextet: sopr, 3 ten, bar, bass; 5'
2010
–
Gloria
- Latin text of the New Testament - mixed choir; 7'
2010-11
–
Sedm portrétů
[Seven Portraits] - string septet; 25'
2010-11
–
Blue Bells or Bell Blues
- 4(1alt-fl,2picc),4(1c.i.),2bcl,2sx,4 – 4,4,3,1 – 4 perc,2arp,pf(cel) – 9,9,9vlIII,10,8,6; 20'
--------------

His opera Nagano


It was composed between 2001 and 2003, and premiered in 2004. It is based on a real event - the Olympic Gold Medal earned by the Czech ice hockey national team, during the Winter Olympics held in Nagano, Japan, in 1998. It is curiously entitled
Nagano - Opera in Three Periods and Overtime.

Here is what the composer himself wrote about his opera, for the insert:
"At first glance there is a contradiction here - the aristocratic genre of opera, the noble edifice of the Estates Theatre, and against that hockey - a profane spectacle with maximum appeal to the masses, with sweat, violence, yelling, and crudity. However, our opera (from the sweat, stench, and dust of the theatrical backstage) also highlights the dignified roots of sports and the Olympic Games and recalls the ancient Greek ideal of Kalokagathia, the heroism of supreme athletic performances, and the valour of the best hockey players in the world. And in the same breath it reminds us that hockey and everything surrounding it are only a game, that it suffices to shift the angle of view only a little and it can be seen as something very funny. (I am always fascinated anew by my two-metre-high neighbour who roars 'gooooal!!!' at his television in a massive voice of many litres, while I - to the rattling of window panes - imagine how his television screen bows in under this pressure.)

Similarly, at first hearing the music of this opera may take the layperson aback with its aural jaggedness in dramatic scenes and with its bizarre sound effects in grotesque passages - not to mention the operatic singing, so far removed from normal reality. Meanwhile for the professional it will not be sufficiently 'artistic': one of the first reactions of the opera singers was 'no aria'. But this music has a strong unifying reason, an unequivocal goal - it serves theatre and serves the whole of the game, an illusion, a deception and confusion, a fairytale, an enticement of the unreal. Do-re-mi-fa-sol-la-si: dream! Do-re-mi-fa-sol-la-si: laugh! Dreaming and laughter - that is what I wish for you, dear viewers-listeners."
The full libretto in English is available [
here
].
Here are some production photos, copyright CTK:
This long documentary on YouTube that you'll find below (57' lenght), which actually Mr. Smolka doesn't approve of (he found it confusing and uninformative), is in Czech language without subtitles but does contain some brief scattered clips of the opera, to give our readers at least a hint of the visual side of the work and some musical fragments, since the composer himself said in an email to Almaviva, to which he attached the audio files of the opera:
"Understand, please, that the music was part of a rich multi-layered theatre performance and it can hardly work itself independently. There were not only text (and subtitles above the scene), singers, chorus, voice-band and ballet, but also 2 break-dancers and 2 capoeiristas – a lot of the dramatic energy to evoke the ice-hockey fight was created by
these acrobats. It was very lively theatre and good intelligent entertainment. You will hear spontaneous reactions of the audience on the audio."
Here you can download this audio file from the Czech radio, which contains - in English - extensive coverage of the world premiere of the opera. It is a 30' long file, but the part about the opera only starts at 17'40" - This audio file is worth listening to; it is interesting:
[
Click here to download the file
] - It's a large file with 6.8 MB, and it can be heard using VLC media player which can be downloaded and installed for free from [
here
] - it's a very good media player, by the way; useful for various other files including DVDs.
--------------
Well, after hearing his opera, I'd say that Mr. Smolka underestimates his own piece when he says that it hardly works without the visuals. He kindly dropped the very well produced CD of the opera at my hotel in Prague (the cover picture is above) in anticipation of my arrival (I had listened to some audio files before, but the CD contains the entire work), and I must say,
it is terrific!
The opera is
*very*
good, and in my opinion it stands its own in musical terms, even though I'd have loved to attend a live performance or watch a DVD if one existed (unfortunately, it was never preserved on video). Also unfortunately the CD is not for sale; it only exists as promotional material from the National Theatre Opera in Prague, but I'll be sure to show it to some of our professional opera company partners - it will be great if this very interesting, beautiful, and funny opera gets revived outside of Prague and Bratislava, the only two cities where it's been given. It would also be a smash in ice hockey-loving Canada; maybe our Canadian members Couchie and itywltmt will be able to interest the opera companies there (if they are willing to do some PR for Mr. Smolka's opera, I'll put them in touch with him - if they PM me about this, I'll clear it with Mr. Smolka and will forward his email address to them).
--------------
The complete Opera Lively exclusive interview with contemporary classical music and opera composer Martin Smolka follows. It was conducted via Skype on June 23, 2012:
-------------
OL – How are things in Prague, and how are you?
MS – Oh, it's hot, and I'm fine, thank you.
OL – Thanks for doing this. Let's start by this question. Though sports are an integral part of our world today, there are very few operas dealing with sport subjects. Apart from your own Nagano, the opera Playing Away, by British composer Benedict Mason about professional football comes to mind. What made you want to use ice hockey as the subject for a new opera?

MS – To be honest, it was not my idea. The idea was born between the librettist Jaroslav Dusek (he wrote the libretto with me) and the man who was the opera house general director at the time in the year 2000. They simply came to me with this idea, and in the beginning I thought that they were crazy, because I was an intellectual reader of poetry, and I felt really far from ice hockey. But the librettist is a very witty person and a good entertainer – he is an actor at the same time - and soon he made me fascinated with the subject.
OL – I listened to the opera and it seems to be a comedy. The public laughs a lot and I saw some fragments with staged scenes on a TV documentary. However, the comedic moments usually come after a music style that I believe you call a sonic photograph, because your instruments play the sounds of people working out in a gym, or cheering during the game, but this always alternates with very melodious moments, very lyrical music. The first one of these melodious moments sounds to me like Japanese music, and the subsequent ones sound like what we would expect of ancient Greek music if we knew what it sounded like. It sounds very solemn, with the ideal of Olympic purity and so forth. Is this what you aimed for, this alternation between the onomatopoeic sounds and the lyrical sounds?

MS – There are moments in the libretto that are connected to Japanese culture. And in the beginning there is mention of the old Greek word
Kalokagathia
, and we also insist in the word
Victoria
, so we tried to be in the context of the old idea of the Olympic Games. But I did not go that far to imitate Japanese or old Greek music. I think that I used sounds of wild nature, and the common language of contemporary music.
OL – The third act seems to be very political. Also the end of the second act seems political as well, depicting common men – workers – who are complaining of the players' salary. Then there is the part with President Vaclav Havel in the third act. For us who are not familiar with local Czech politics, can you explain a little bit those parts?
MS – You know, many of those parts have to do with local humor. It is difficult to explain humor, to explain jokes. They work only in our culture. But could you explain again what parts you are talking about?
OL – I'm talking about these contrasts between the rich and the poor in your libretto. I think that maybe you summarize everything at the end of the opera with that bit of Chinese poetry, when the poet says "In life there is bliss here and misery there." Was that the morale, the motto of the opera in terms of its politics, showing these flashy players who are heroes and make good money, side by side with workers who are underpaid?
MS – The idea was to be serious and grotesque at the same time. We believed that humor and serious lyricism can coexist in a way. So the idea of ice hockey is there in function of mythological heroism on one hand, but it also provides funny jokes and grotesque moments on the other hand. It was simply to say that you don't need to take any of this too seriously.
OL – OK.
MS – The Regie of the Prague production underlined especially the humoristic element. For example, in the beginning of the first act the chorus members are singing of
Kalokagathia
, the original idea of the purity of the Olympic Games, and the stage director gave them very funny gymnastic T-shirts which showed that the members of the chorus are nothing but sports fans, with beer bellies and all. So, he used several possibilities to show on the stage something ironically contrasting to the text.
OL – Interesting. It was given more than twenty times; it premiered in 2004 and kept going for several seasons, right?

SM – Right. There were a lot of what we call in our theatrical jargon
externists
in the production - people hired from outside of the theater - who were very important for the strong expression of the opera. We had two dancers of
Capoeira
, which is a South American martial art, and two break dancers. These four people helped us very much in showing the true energy that goes on in ice hockey playing and fighting. And it was not only these four people. There were a lot of other people from outside of the opera company's resident artists [Editor's note: the system in the Czech Republic as well as in other parts of Middle Europe usually means that opera personnel including singers are permanent, year-long employees of the opera houses]. The chorus members were hired from elsewhere, and they were quite essential to the entire concept – they depicted sports fans who kept shouting "Czech Republic!" while they surrounded the audience in the opera house. Simply there were too many people from the outside who had to come and stay in Prague for the performances, therefore the production could not be done every month. We would make a run of performances - six or seven - and then there would be a break for the whole season until we got ready to do it again.
OL – Has it ever been given abroad?

MS – Just once; it was given in Bratislava, the capital of Slovakia. I was very happy about that performance, because in Prague we did it in the very old Estates Theater – it's a wonderful theater building which is where the world premiere of Don Giovanni, among others, was done in the Eighteenth Century. The house is very beautiful but all this old architecture means that the acoustics didn't work that well. In Bratislava it was the first and only time that I heard my own opera in a regular good theater with excellent acoustics. Only there, my instrumentation really worked.
OL – Being that in Slovakia the language and culture are very similar to those of the Czech Republic, it all seemed to have worked well, but do you feel that your opera is difficult to translate to other cultures, being too specific of the Czech culture? Could it be staged in Germany or England, or Canada which is a country that is crazy for ice hockey? Do you feel that the local insider jokes will make it very difficult to be diffused abroad?
MS – I believe that it could work even if some of the jokes would be lost. Because of course there is a game with the language in the libretto; we used puns in Czech language; but opera is quite a complex form and it is not dependent only on text, so with some effort, I believe that
Nagano
could still make sense in other languages and cultures.
OL – I see. Let's talk about your music. Czech opera has a really long history, with composers like Smetana, Dvorák, Fibich, Foerster, Janacek, Martinu... how important is this tradition for you, the composer of two operas? Do you feel part of it? Or do you rather have more in common with contemporary music from any place in the world?
MS – I feel that my work is rather part of contemporary music and contemporary art. However I'd say that especially in this opera I'm also free from the European avant-garde. Usually when I work for a theatrical work or for a film, I'm simply serving what the theater or the moviemakers require and I don't care that much for keeping my own musical language. Of course I do use a lot of experiences and elements which I have used before, but I'm simply the servant of whoever has commissioned the work. But in this opera Nagano I was lucky that the librettist Mr. Dusek wrote not only the text together with me, but he created the whole vision of the theatrical form. He also spent lots of energy getting people together and on board with our ideas. He talked for long hours with the opera house people. So the idea of these
Capoeira
dancers and many other elements were simply his ideas, therefore the opera ended up being musically different from my usual style.
OL – You often use microtonality in your other compositions, right?
MS – Yes, but like I said, not in this opera; that's one of the ways it is different from my usual music.
OL – Perhaps the first opera to use this approach, Matka [Mother] written in quarter-tone, was also the work of a Czech composer, Alois Hába. Were you influenced either by this opera, or by Hába, who was a teacher in Prague?
MS – I would not say that there is any connection to Hába.
OL – Could you please explain to us your style of microtonality in your other compositions?
MS – Well, I used it many times and in many ways and for various reasons. In Nagano there is indeed a moment where I use something similar – the gym scene – because in my music I often imitate various environmental sounds. For example in Prague there is a river with steam boats. These steam boats have wonderful horns which give a tone of a very specific color. That sound is something that resembles major or minor triads but out of tune. So in various pieces I've used brass triads, with brass chords that are distorted by microtones. I believe that this technique has an enormous emotional potential, which could bring new energy to those overused tones like major triads which are used in European music a bit too often. So if you play these sounds out of tune like doing it in another tone, there is a new energy of bizarreness or pain. That's one of the reasons and ways in which I've dealt with microtones.
OL – Yes, I see that you have mentioned that you use imitation of various musical genres like jazz and early rock or Balkan folk music, right?

MS – Right, but it's quite strongly transformed. Don't imagine something like Bartok or neoclassicism. I often use hockets, the old polyphonic form in which several voices with individual tones alternate in rhythmic order while putting the melody together. Hockets are used for example in the first half of the opera in the scene where hockey players are in the dressing room and they are warming up and using the body building equipments. Of course we showed it in a bit of comedic way, for example hockets of funny sounds which are in the orchestra. There is a moment when there are three sounds that follow each other very quickly. The first one is an oboe that plays roughly and in the lowest registers producing a sound like the bleating of a goat. The second one is a funny bizarre percussion instrument called the vibraslap. The third tone is made by a hysterical high cello. So when you play these three sounds repeatedly you get a very funny succession of tones, which is not a melody but at the same time sounds like that body building equipment squeaking in a rhythm a little bit jazzy like this; [Martin sings] so this a way of making musical humor.
OL – Yes, there were also sounds I suppose made by the tenor saxophone, which sounded like a vuvuzela.
SM – Now I'm lost, I don't know what you are talking about.
OL – That South African plastic horn, you know? Your tenor saxophone sounded just like it, and it's a sound associated with sports, with crowd cheering in sports, but it's probably just a coincidence because it became known outside of South Africa just recently, during the 2010 football World Cup, although it has existed for decades.

SM – Oh, I see. Now I know what you're talking about, but yes, it came later for me, but you're right, the tenor saxophone makes the kind of sounds that we hear in stadiums.
OL – Das schlaue Gretchen, your second opera, set to music a German libretto, and was done for children audiences. Was it very different for you to adapt to another language - in this case German, but you have also tried your hand with Spanish and even Latin - and to work for children?
MS – No, again I had the luck of having a good librettist and this time the commission was German and the librettist spoke German. I worked in a language that is not familiar to me and I read quite badly in German but this man was so kind that he accepted my ideas of a Czech fairy tale which I explained to him in English, and he made his German libretto according to my ideas. He helped me very much; he was very open to my ideas, and when he made the libretto for me I asked him to read it for me. He made a recording, and he underlined the accents in the text so that I would be able to adapt my music to those accents and rhythms. Later I asked him to correct some of the accents to better match my music and so on, and he did.
OL – Working for children, was that challenging?
MS – No. The commission was to make an opera performed by adults for children audience. I knew well the fairy tale which I got to know as a child, and later I read it to my children, so it was easy. I simply worked out of my old favorite funny story.
OL – How was it received?
MS – I think that it was well directed and the performance was really made for children. There was an actor who served as kind of a guide for the performance. There were also parts when this actor and other performers talked to the children. It was good fun for the children.
OL – Any plans of composing more opera?
MS – Yes, there is a plan but it's in its first steps. It should be in the contemporary music festival in Ostrava, the other large Czech city, in June of 2013.
OL – Can you tell us what the topic is?
MS – I would say it's still secret.
OL – I see.
MS – But an important element will be the fact that this time we'll have speaking actors. They'll be speaking on microphones and the music works with the special musical quality of speech. Operatic singing - at least that's my vision for now - will only appear from time to time, at some peak moments. Imagine that you see the mountains and on the tops there is still snow, so that will be the operatic singing. It's something that will be occurring just from time to time, as the strongest light, as something that like a holiday is something unusual. The operatic singing will be rare and unusual; that's the idea.
OL – From the documentary about your opera Nagano I saw crowds and crowds going to the theater; it looked like the performances were sold out. I also saw that the documentary interviewed professionals and players from the hockey world. What kind of public attended Nagano? Was the audience made of people who are interested in ice hockey but not necessarily in opera? Was that an opportunity to diffuse the art form to other circles?
MS – I believe that the majority of our audiences were made of educated people - rather the intellectuals - but not necessarily the opera audiences. I think that for opera audiences my piece was not operatic enough, and for ice hockey players or fans it wasn't realistic enough. But it was intelligent and funny theater and some people came again and again, and the theater was always full. People were smiling, laughing… Laughter in opera is not that usual, and here it worked.
OL - What other contemporary composers do you value?
MS – I'm really a fan of new music and music which is innovative in various ways, but there are too many to quote.
OL – OK, so, let's say, to narrow it down a little bit, what are the contemporary opera composers that you value?
MS – My favorite contemporary opera is mostly an anti-opera,
Neither
, and it was written by Morton Feldman, member of John Cage's New York group. In 1977 he wrote this opera to a short text by Samuel Beckett. This opera was commissioned by La Scala but Feldman was so free that he wrote an opera with no story, with only one singer; it's very monotonic and it is great music. Another fascinating opera for me which I have not seen on stage but I heard many time in recordings is Olivier Messiaen's
Saint-François d' Assise
. There are also people who did something dealing with operatic theater but far from opera traditions, like Helmut Lachenmann's
Zwei Gefühle
(Two Feelings - part of the opera
The Little Match Seller
). And of course Philip Glass'
House of Usher
, we had a wonderful performance of it in Prague which was directed by a choreographer who gave to each singer a shade; there was a dancer moving all the time with the singers.
OL – Like in his opera Les Enfants Terribles, he did the same thing there as well, with dancers shadowing the singers. Have you seen it?

SM – No, but I'm a great admirer of Glass and minimalist music and Steve Reich, and the younger generation in New York especially Michael Horton and David Lang, who won a few years ago the Pulitzer prize [Editor's note – for
The Little Match Girl Passion
in 2008]. And in Europe there are a lot of good composers.
OL - Do you know Miguel Azguime's experimental opera Itinerário do Sal? It uses interesting percussion, I think you'd like it.
SM – Unfortunately I didn't see that one. There is a great composer in Poland who works with transformation of Baroque elements, Pawel Szymanski. He wrote an opera in 2005,
Qudsja Zaher;
I'm not sure if it was staged in Warsaw or not, I've actually not heard or seen it, but I admire his chamber and orchestral music, so his opera might be interesting.
OL – Back to your music – what would be your most successful piece? Is it Rain, a Window, Roofs, Chimneys, Pigeons and so… and Railway-Bridges, too (1992) ?
SM – Yes, this piece I wrote in 1992 and it was broadcast by national carriers especially in Germany. The piece was given several times and recorded, but there is music that is played much more often. Concert pieces by contemporary composers are usually played just a few times, and if you write something for the theater for example, for a movie or a silent movie - it is today fashionable to write music for silent movies - then you reach many more performances so I can say that one of my most performed pieces is a piece for ensemble to a short German silent movie, from 1928. The title is
Vormittagsspuk
(Ghosts Before Breakfast) by Hans Richter and my music to it has the title
Hats in the Sky
. [Editor's note – the original soundtrack was by Paul Hindemith but it got destroyed by the Nazis].
OL – Oh yes!
[see the YouTube below]
MS – I had luck with this piece; it is performed again and again by the ensemble for which I wrote it.
OL – I heard it and loved it.
MS – Thank you.
OL – Anything else you'd like to talk about?
MS – You live in North Carolina, right? Is someone playing ice hockey there?
OL – Yes, there is the Carolina Hurricanes, a professional NHL team that actually won the Stanley Cup a few years back.
MS – It's funny, you have winter there?
OL – We do have snow very rarely; one out of three winters we have blizzards. But they play in an indoor stadium with artificial ice. Of course the ice hockey-going crowd here is very different from the opera going crowd. A friend of mine was one of these days commenting about loving opera, which he defined as high brow entertainment, and also loving sports, which he called low brow entertainment, to which one of his opera-loving friends replied: "I'm sure opera is the more violent of the two."

MS – (Laughs) That was one of our ideas with Nagano, that the energy given to sports and the energy given to operatic singing are comparable. These two activities belong to the few exceptions in our civic lives where there still exists authentic pathos. If we were to use the high authentic romantic energy in our everyday life, it would be a bit embarrassing, wouldn't it? If we were to express these on the streets, it would be awkward, but in opera and sports we can still do it, right?
OL – Fantastic, that's a very nice take. I'll be trying to pitch your opera to people here, if someone here wants to produce it
MS – It sounds like a dream.
OL – I think it's very good and interesting. I'll try to pitch it to our opera-producing community.
MS – Please do. You know, there is one element which will make it easier for people in America to relate to it. There is a part with fans of the American team and Canadian team, and those parts in the libretto are in English. All that is in English in the libretto was my idea. I included some absurdities which we had to learn in our English lessons, like the three forms of your verbs, like "go went gone" and "beat beat beat" or "draw drew drawn." We used those forms in the libretto to reproduce the cheering of the crowd, and all these parts in the libretto are in English. The idea was that the American and Canadian fans were shouting these things, and the Czech fans would be also shouting three words with different meaning, but sounding similarly.
OL – Yes, you were playing with the sounds of the words, right?

MS – Yes, yes.
OL – OK, fabulous, well thank you so much for this interview.
MS – Thank you very much and have a nice trip to Prague.
OL – Yes, it will be my first time in Prague and I look forward to it. It's a wonderful city and country, with beautiful operatic traditions and opera houses.

----------------
Here is another sample of Martin Smolka's music:
© Opera Lively - Disclaimer: this exclusive interview is copyrighted by Opera Lively with all rights reserved, and is not to be reproduced without express authorization. Brief excerpts can be used after consultation (use the Contact Us form) as long as proper credit and a link to the full interview on Opera Lively are provided. Links to the interview can be posted without authorization.