Related
:
La connexion MET-Montréal
This Day in Music History - 21 September 1963
Today's OTF is about another French opera written after a Goethe novel, and the unlikely story of a Montrealer who in spite of the odds became a world-renowned conductor at one of the most famous opera houses in the world.
(Charles Louis)
Ambroise Thomas
(1811–1896) was a French composer and educator. As an educator, Thomas is best known for having led the
Conservatoire de Paris
from 1871 until his death in 1896.
As a composer, Thomas left about
twenty operas
, most notably
Raymond
(1851),
Hamlet
(1868) and today's feature,
Mignon
(1866) .
Mignon is an
opéra comique
in three acts with an original French libretto by Jules Barbier and Michel Carré, based on Goethe's novel
Wilhelm Meisters Lehrjahre
. Thomas' goddaughter, English operatic soprano
Mignon Nevada
, was named after the main character.
The first performance was at the Opéra-Comique in Paris on 17 November 1866. The piece proved popular: more than 100 performances took place by the following July, the 1,000th was given there on 13 May 1894, and the 1,500th on 25 May 1919. Despite his success in Paris with the French version, Thomas was asked to revise the work for the first performance at the Drury Lane Theatre in London on 5 July 1870. This version was given in
Italian
with recitatives. In the years after its premiere in 1866, Mignon clocked up hundreds of performances, almost challenging Gounod's Faust as one of he most popular French operas of the 19th century before Carmen. By the second half of the 20th century, this enchantingly tuneful and sweetly sentimental work had all but disappeared from the repertoire. Bob Rose of
Fanfare
magazine found only three performances of this work listed in the last 10 years, one in France in 2007, and one in New York City in 2005. The third was in 2001 in Toulouse.
To wet your appetite, here is the overture, performed by Seiji Ozawa and the Boston Symphony:
For nearly 65 years, Montreal 's
Her Majesty's Theatre
was one of the most important venues for orchestral concerts, recitals, plays, operas, and ballets in that city. Built in 1897-1898 during the reign of Queen Victoria, the theatre was in continual operation until it was demolished in 1963. The theatre also presented
Marian Anderson
,
Ferruccio Busoni
,
Walter Gieseking
,
Sergei Rachmaninoff
,
Paul Robeson
, and numerous other celebrities. In the early 1910's, a performance of
Mignon
was given at the theatre and in attendance was a teenage
Wilfrid Pelletier
. In an interview he gave in the late 1960's
to the French service of the CBC
, Pelletier admitted that the performance made such an impression on him that he vowed then and there to not only become a professional musician, but that he would seek a musical education abroad, feeling his hometown could not provide what he was looking for.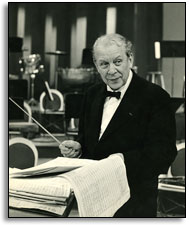 After a short-lived stint as rehearsal pianist with the Montreal Opera Company, Pelletier started preparing for the
Prix d'Europe
competition, studying harmony, composition and performance. He was unsuccessful in the 1914 competition but won the prize in 1915.
Despite the fact that World War I was raging in Europe, he went to Paris in the autumn of 1916 to study with Isidor Philipp (piano), Marcel Samuel-Rousseau (harmony), Charles-Marie Widor (composition), and Camille Bellaigue (opera repertoire). Because of the war, however, he was forced to leave France at the end of June 1917. In view of the relative insecurity of the musical field in his own country, he decided to try his luck in the USA. There he met the conductor Pierre Monteux, who introduced him into the musical and operatic circles of New York, where he took up residence. He soon was offered a position as rehearsal pianist for French repertoire at the Metropolitan Opera, working with Caruso, Farrar, Rothier, Grace Moore, and many other famous singers. Thus began
a 33 year relationship
between him and the Met.
Also during this time he joined the touring company of the famous Italian baritone Antonio Scotti as assistant to the conductors Gennaro Papi and Carlo Peroni. It was on one of these tours, on 21 May 1920 in Memphis, Tenn, that Pelletier first conducted a complete opera: Il Trovatore. In 1922 he became assistant conductor at the Metropolitan Opera where he remained until 1950. Pelletier was the founding conductor of what would become the
Orchestre Symphonique de Montreal
, and helped found the Montreal Conservatory.
Synopsis (From: http://en.wikipedia.org/wiki/Mignon )
Time: End of the 18th century.
Place: Germany and Italy.
Act 1
- In the courtyard of an inn in a small German town, the wandering minstrel Lothario sings and the Gypsies dance while the townspeople watch and drink. Jarno threatens Mignon with a stick when she refuses to dance, but Lothario and Wilhelm Meister come to her aid. She thanks them and divides her bouquet of wild flowers between them. Wilhelm and Laerte have a drink together. Philine and Laerte leave, after he gives her his flowers from Mignon. Mignon tells Wilhelm she was captured by Gypsies as a child. Wilhelm decides to purchase Mignon's freedom. Lothario comes to say goodbye to Mignon. Lothario wants Mignon to travel with him, but she stays with Wilhelm. Frédéric lovingly follows Philine in, but she also wants Wilhelm. The acting troupe is about to set off for a baron's castle after receiving an invitation to perform there. Mignon is deeply in love with Wilhelm, but upset to see the flowers that she gave him in the hands of Philine.
Act 2
- Philine's room in the baron's castle, Philine is elated, living in the luxury and charming the baron. Laerte is heard outside, praising Philine. Wilhelm and Mignon enter. She pretends to sleep while Wilhelm and Philine sing. When the couple leave, Mignon tries on Philine's costumes and make-up. She is jealous and exits. Frédéric enters. When Wilhelm returns for Mignon he is confronted by Frédéric. Mignon rushes in to break up their impending fight. Wilhelm decides that he cannot stay with Mignon and says goodbye to her. He leaves arm-in-arm with a jubilant Philine. Later, in the courtyard of the castle, Mignon is consumed by a jealous rage, when she hears Lothario playing the harp. He comforts the girl. Philine's portrayal of Titania in A Midsummer Night's Dream is applauded in the conservatory. Mignon, in jealously, shouts that she wishes the building would catch fire and runs out. Lothario hears her and moves toward the conservatory. After Mignon returns, Wilhelm receives her so warmly that Philine, now jealous, sends her to fetch the wild flowers in the conservatory. Wilhelm rushes to save Mignon from the fire that Lothario had set to please her, carrying her unconscious body out of the conservatory with the singed flowers still in her hand.
Act 3
- Wilhelm has brought Mignon and Lothario to a castle in Italy which he considers buying. There an old man watches over Mignon and prays for her recovery. Antonio relates how the castle's previous owner had gone mad after his wife had died of grief over the loss of their young daughter. Wilhelm decides to buy the castle for Mignon because it has so speeded her recovery. Mignon awakens and confesses to Wilhelm of her love for this strangely familiar place. He finally realizes that he loves her deeply and resists Philine's attempts to win him back. Lothario re-enters and informs the couple that he is the owner of the castle and that returning here has restored his sanity. After reading a prayer found in a book in the house, Mignon realizes the she is his daughter Sperata. The three embrace happily.
The Performance
Ambroise THOMAS
(1811–1896)
Mignon
(1866, rev. 1870),
opéra comique
in three acts
French libretto by Jules Barbier and Michel Carré, after Johann Wolfgang von Goethe
Main Characters
Rise Stevens (Mignon)
Mimi Benzell (Philine)
James Melton (Wilhelm Meister)
Ezio Pinza (Lothario)
Donald Dame (Laerte)
Lucielle Browning (Frederic)
Metropolitan Opera Chorus and Orchestra conducted by Wilfred Pelletier
(Broadcast of January 27, 1945)
BONUS:
Earlier
version from 13 March 1937 with Pelletier at the Met and the following cast:
Mignon: Jennie Tourel
Wilhelm Mester: Armand Tokatyan
Philine: Josephine Antoine
Fréderic: Maria Matyas
Lothario: Leon Rothier
Laërte: Désiré Defrene
http://www.todoperaweb.com.ar/musica...on-id-117.html