Lulu is a very difficult role for any singer.
On top of the vocal requirements: wide range, easy top notes (but not coloratura), while maintaning a solid center and the ocassional low note), some acting talent is needed, not to speak of the 'physique du rôle'.
Alban Berg had in mind one soprano while writing
Lulu
, the Czech singer
Jarmila Novotná
: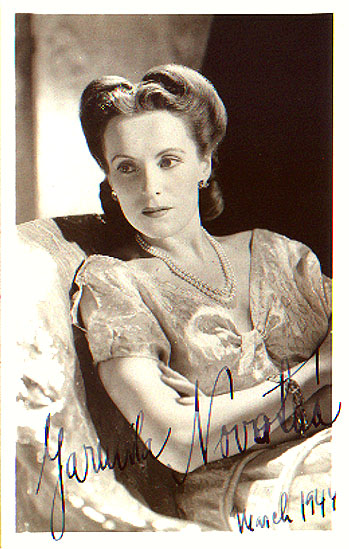 Novotná was never to sing Lulu on stage, but we can try to understand the reason behind Berg's choice (apart from the obvious one in the above image) listening to her in the role of Antonia, from
Les Contes d'Hoffmann
:
Novotná - Elle a fui, la tourterelle
Perhaps the first singer to get some recognition in the role was German soprano
Helga Pilarczyk
:
She debuted the role in Hamburg, the year 1957. with a staging by Günther Rennert and Leopold Ludwig conducting. The final number, with the death of a Lulu wearing a striking red wig was a sensation, and this staging was then paraded all across Germany, always with Pilarczyk as Lulu. However, some reviewers lamented the portrait of Lulu as a simple, lightweight coquette, replacing the more complex being created by Berg. They were missing the "serpent" component in Pilarczyk's performances.
In 1962, American soprano
Evelyn Lear
sung Lulu for the first time, a role she would keep in her repertory until 1980:
It was an interesting production in Vienna, with Karl Böhm conducting and a staging by Otto Schenck. It's a big success, with twenty minutes of standing ovation the evening of the premiere. Böhm's work, reasoned and very precise, merges well with Schenck's staging, that emphasizes the turn-of-the-century atmosphere associated in the German speaking countries to Wedekind's plays, even if this was not the exact intention of Berg. Lear received incendiary praise as an actress, and she is a beautiful woman, but her voice is simply not Lulu's.
Lear - Lulu
Anja Silja
was the Lulu of choice since her debut in 1966, until she retired the role, in 1978:
Her debut was with Ferdinand Leitner singing, and a staging by Wieland Wagner. There were other singers available for Lulu at the same time, but none of them (Joan Carroll, Carole Farley, Catherine Gayer,...) could resist the comparison with Silja. Her Lulu is a very feminine character, but also revealing an androgynous, masculine side, and a sort of innocence that are perfect for the role (at least, for part of the role), and she just became a reference for Lulu.
Silja - Lulu
Teresa Stratas
was selected for the first complete
Lulu
, with the original three acts envisaged by Berg, and completed by Friedrich Cerha:
That was in Paris, back in 1979, with Pierre Boulez conducting and Patrice Chéreau as stage director. Stratas was a good Lulu, even when her voice was not really the best one for the role. She used her appearance, her fragility, to pervade the role with a feeling of vulnerability that really suited Lulu, but also keeping very much in sight the erotic component. She was particularly good singing Lulu's death. She sang her last performance of Berg's masterpiece at Brussels Opera, in 1988.
Stratas - Lulu
During some years, there was not a really great new Lulu. Julia Migenes, Karan Amstrong, Catherine Malfitano... were not really there. Perhaps the closest was
Patricia Wise
:
Wise - Lulu
But then, in 1995, a truly sensational
Christine Schäfer
debuted the role:
At Szalburg with Peter Müsbach's staging and Michael Gielen conducting. Later, she recorded a wonderful DVD at Glynderbourne. Hers is a feminine, but strong Lulu. With a concentrated energy that she transmits to the audience, and for once being able to fulfill all the vocal requirements in Berg's score. Extraordinary.
Some of the more recent Lulus are:
Marisol Montalvo
: a really beautiful woman, that was First Runner-Up to Miss America, in 1992, with good acting skills, but not so great vocal talents:
Montalvo - Lulu (warning: contains nudity)
Laura Aikin
: A veteran of many avantgarde roles, that is a correct, but rather unexciting Lulu:
Aikin - Lulu
Patricia Petibon
: She is a rather exciting Lulu, but can't cope with all the vocality nuances of the role.
Petibon - Lulu
Agneta Eichenholz
: The best active Lulu.
Eichenholz - Lulu